Alcune idee , spesso originali e geniali, per decorare la vostra casa nel periodo più bello dell'anno.Da "Country Living " ecc qualcosa per voi.
Some original ideas to decorate your home on Christmas time.From "Country living magazine" here are some ideas.
Quelques idées gèniales pour décorer votre maison pour Noël Du magazine "Country living" voilà quelques idées.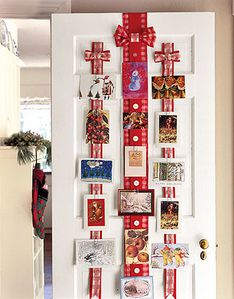 I biglietti di Natale ricevuti possono essere una decorazione per la porta d'ingresso, anchedisposti a forma di alberello
Christmas card received can decorate your entry door even arranged as a little pine tree
les cartes de Noel reçues peuvent etre placées à l'antrée avec un joli ruban rouge et qualeques boutons. Les cartes peuvent prendre la forme de petit sapin aussi.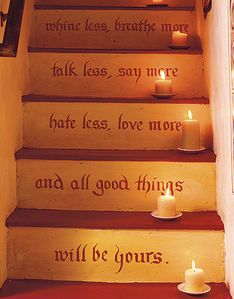 Per un'atmosfera molto calda
For a very cosy atmosphere
Pour uneatmosphère très chaleureuse
Una ghirlanda appesa al pomello della scala e decorata con rami di pino, meline, piccole, pere e bacche
A Garland around a bannister tied with a colouful ribbon , fir branches, little apples ,pears, berries
Une ghirlande pour monter les escalier dans l'atmosphère de Noel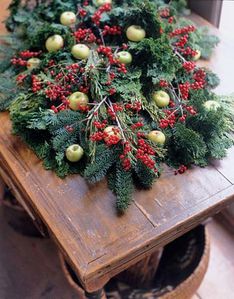 Un tappetino di abete fresco sul mobile, su cui sono appoggiate meline veri e bacche rosse
A Fresh fir little "carpet" laying on a cupboard or a table, decorated with little green apples and red berries
un petit tapis de branches fraiches de sapin avec de petites pommes verts et des baies rouges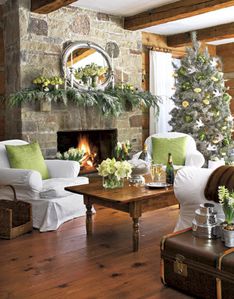 Un camino acceso e tutte le decorazioni, anche fiori freschi, nelle sfumature di verde
Fireplace working and all around green decorations
Différantes nuances de vert pour les decorations autour le feu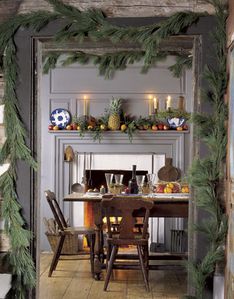 La sala da pranzo semplice ed ospitale con tanti rami di abete , frutta e candele
The dining room with fresh fir garlands and door frame, fruits, candles
La salle à manger décorée avec des branches de sapin , fruits de saison et bougies
Piccolo angolo della cucina decorato
Little corner of the kitchen decorated
Un petit coin de la cuisine bien décoré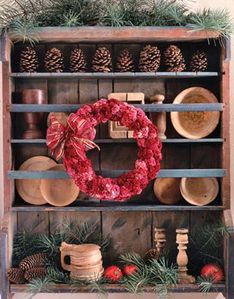 Pigne di varie misure e rami di abete e decorazione semplice
Pinecones of different sizes and fir branches turn this cupboard in something cute
Des branches de sapin et des pignes de différantes mésures donnent une touche particulière à ce meuble
Perchè non dare un tocco natalizio ai ripiani di cucina?
Why not giving a touch of Christmas to the kitchen shelves?
Pourquoi ne pas donner une touche de NOEL à ces étagères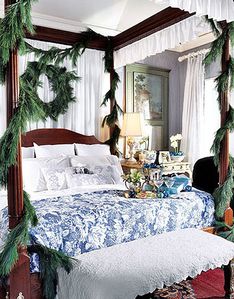 Se avete un letto e una camera come questi, ecco un'idea!
If your bed and bedroom are like this one , well this could be an idea!
Si vous avez une chambre et un lit pareils , bon voilà une idée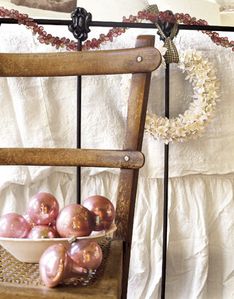 Dettagli per la camera da letto
Details for your bedroom
Détails pour la chambre à coucher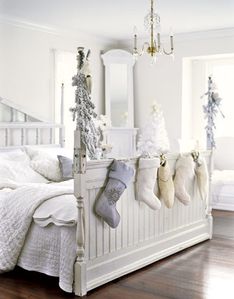 Nel caso che ne abbiate une così...
If your bedroom is like this...
Si votre chambre est pareille à celle.ci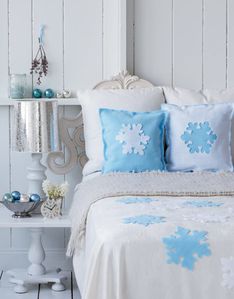 Oppure più nordica e più semplice..
Or more Scandinavian-style and simple..
Ou bien dans le style du Nord et simple...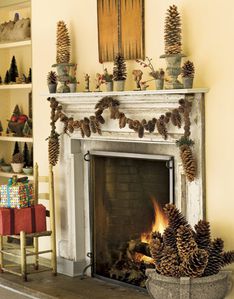 L'angolo del caldo ha solo pigne, semplice ma carino
The fireplace is "covered" by pinecones, simple but nice
Le coin feu est couvert par les pignes, très simple mais joli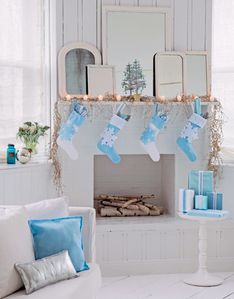 Se amate il bainco e azzurro
If you like white and light blue
Si vous aimez le blanc et le bleu clair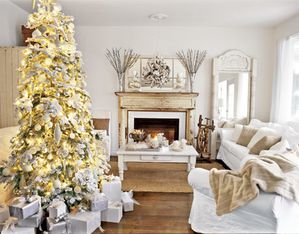 Quando di è ricchi, si ricchi.. quindi tutto ORO!
When one is rich, he is rich and therfore, GOLD everywhere!
Quand on est riche, on est riche ... OR partout !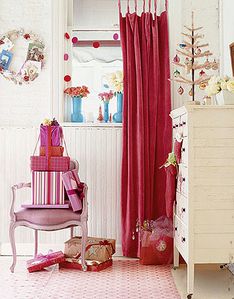 Il piacere di un angolo tutto ... rosa!
The pleasure of decorating a corner of your house in .. rose!
le plasir d'un coin en rose!!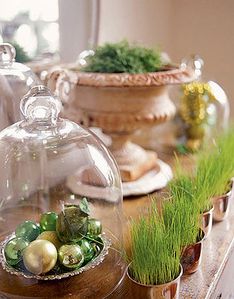 Piccole decorazioni in verde e piccole piante
Little green decorations and fresh green little plants
Petites dècorations en vert et petites plantes vertes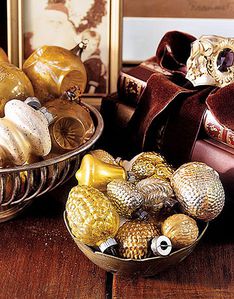 Ornamenti dorati vintage di diversa misura e forma sono un'idea su una tavola
Vintage ornaments of different size and shape offer a good idea to decorate a table
Décorations dorées vintage de taille et forme différantes sont bien pour le dèco de la table
Statuette di Babbo Natale di materiali e tempi diversi collezionate insieme
Little Santa figurines of different material -made and time collected all together
Statuettes de Père Noël de material et temps différants rèenies toutes ensemble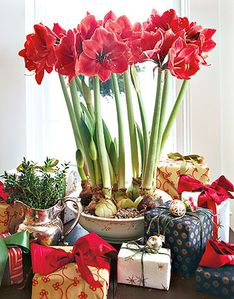 A volte un mazzo di Amaryllis è bello e decorativo quanto una Stella di Natale
Sometimes a banch of Amaryllis can make a wonderful atmosphere even more than a Poinsettia.
Parfois un bouquet d'Amaryllis rouges fait exactement comme une plante de POinsettia
le arance decorate con i chiodi di garofano , pigne e abete fanno il Natale più profumato
Oranges and cloves nailed in , pinecones and fir branches turn Christmas ina fragrant one
Des oranges avec de clous de girofle dedans , des pignes et des branches de sapin frais
font un NOEL plus parfumé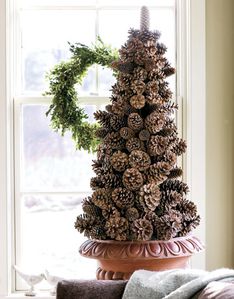 Facile ma di grande effetto la piramide di pigne , incollate a caldo su oasis oppure avvolte da fil di ferro che fisserete nell'oasis
Easy to make this picone tree , hot glued or wired and fixed on a foam cone base
Un con de mousse à la base pour faire ce joli et simple arbre de pignes collées à chaud
ou bien fixées avec le fil en fer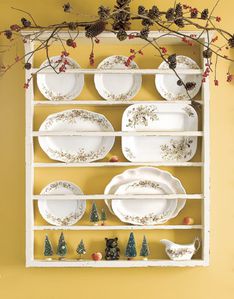 Piattaia con i piatti della nonna e piccoli abeti e rametti qua e lò
A nice olf plate rack with granny's favourite serving dishes and little pine trees , pine cones and ivi branches
Vaisselier avec les assisttes de grande -mère , avec pignes, petits sapins...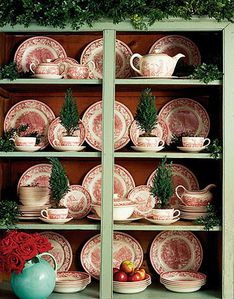 Questo è anche MOLTO carino
This plate rack is also very nice
Cevasselier est aussi très joli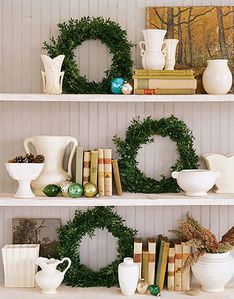 Anche i libri... sentono il Natale!
Books too can feel ... Christmas arriving!
Les livres aussi... sententque NOEL arrive!
Ebbene, un alberello con una collzione di sfere vintage
Oh yes a nice ree built up with old vintage tree balls
Et voilà l'arbre avec des boules de Noel vintage
e per finire un alberello con cartoline vittoriane isirate al Natale
and a final Victorian cards tree
et , à la fin, un petit sapin de cartes Victoriennes de Noel..