UN MESE ESATTO A NATALE e UN MESE PER PENSARE A DECORARE LA CASA , FUORI E DENTRO, CAMERA PER CAMERA, MOBILE PER MOBILE., QUALCHE ANGOLETTO PARTICOLARE.. ECCO QUALCHE SUGGERIMENTO PER LE SEMPRE ATTUALI GHIRLANDE .
ONE MONTH EXACTLY TO CHRISTMAS ( BY THE WAY, HAPPY THANKSGIVING DAY FOR THOSE WHO ARE CELEBRATING IT !) AND IT'S TIME TO SET UP SOME DECORATIONS FOR HOME, OUTISIDE AND INSIDE, ROOM AFTER ROOM , FURNITURES, ANY LITTLE PECULIAR CORNER ... HERE ARE SOME IDEAS FOR THE ALWAYS-UPDATE WREATHS .
UN MOIS EXACTE à NOEL AND IL EST TEMPS DE COMMENCER à PENSER à LES DECORATIONS HORS ET DANS LA MAISON , DE CHAQUE CHAMBRE, DE CHAQUE MEUBLE OU BIEN DE QUELQUE COIN PARTICULIER.VOILà QUELQUES IDéES POUR LES COURONNES TOUJOURS TRES ACTUELLES.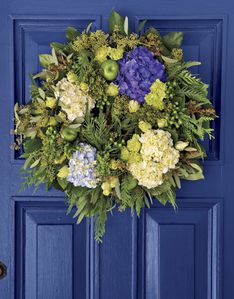 Una ghirlanda profumata , decorata con rametti di pino freschi, cedro,fiori di ortensia e mele verdi
A fragrant wreath decorated with fresh pine branches, cedar, hydragea flowers, green apples
Une couronne parfumée et décorée avec des branches de pin frais, cèdre, fleurs de hortensia et pommes verts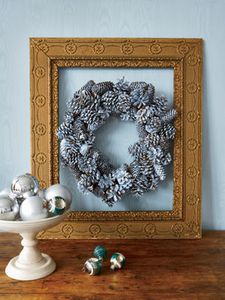 Una ghirlanda particolare per decorare un angolo della vostra casa: qui pigne di varie forme sono state incollate ad un ramo di vite e poi sono state dipinte con spray argentato(glitter) . Ma voi potete usare un colore che si abbini all'ambiente in cui la volete ... incorniciare!
A fashion wreath for a corner of your house: difefrent shaped.pinecones have been painted with silver glitter and glued to a grapevine base. you can paint the pinecones in your favourite colour and in accordance with the place where the framed wreath will be located!
Une couronne particulière pour dècorer un coin de votre maison: des pignes de différants forme ont été paintes avec du glitter argent et collées à une branche de vigne de base.On peut la colorer avec la couleur préférée et selon l'endroit où vous voulez la placer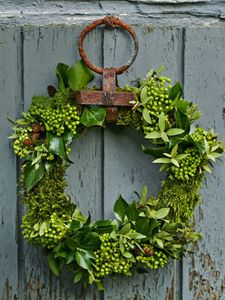 Muschio, edera e foglie di eucalipto per fare questa semplice ghirlanda da esterno
Moss, Ivy and eucalyptus framed together for a simple wreath
Mousse, Lierre et feulles d'eucalyptus emsemble pour une couronne très simple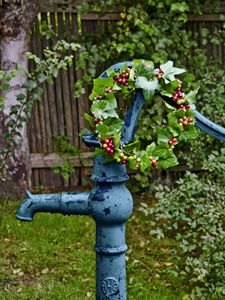 Edera fresca attorno a fil fi ferro con qualche bacca rossa 1
Some fresh ivy around a wire with some red berries to decorate
Du lierre frais et de baies rouges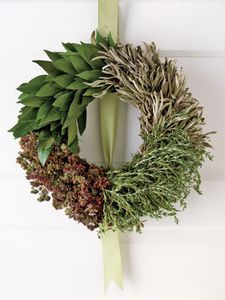 Salvia, origano, rosmarino e foglie di alloro : combinazione perfetta per profumo e naturalezza!
Sage, oregano, rosemary and bay leaves combined together for a fragrant natural wreath..
Sauge, romarin, origan et feuilles de laurier pour une couronne parfumée et naturelle..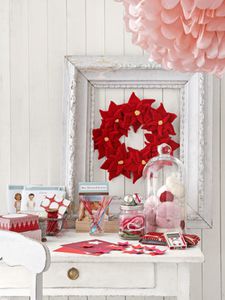 Stelle di Natale in feltro rosso attorno a fil di ferro ed incorniciate!
Poinsettia felt flowers glued around a wire base and framed!
Poinsettia fleurs en feutrine rouge collées à la base en fer et encadrées!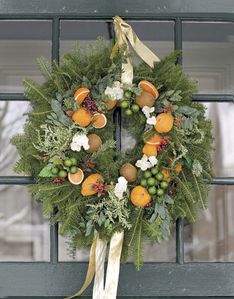 Rami di abete e tanti frutti colorati, come arance..
Pine fresh branches and green leaves with colourful fruits as oranges and kiwis
Branches de sapin frais and feuilles vertes avec des fruits colorés comme les oranges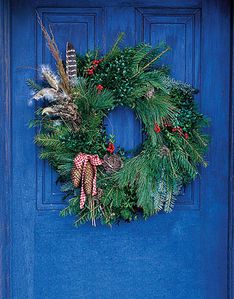 Una ghirlanda ben augurale con rami di abete fresco, pigne e ... piume tenute insieme da un fiocco
A welcoming wreath with fresh pine branches and cones and some feathers here and there tied together
with a colourful bow
Une couronne de bienvenue avec de branches de sapin frais , pignes et plumes, liées ensemble par un flocon coloré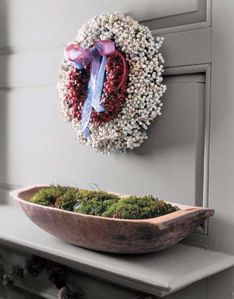 Una ghirlanda con bacche bianche e rosse e bocioli di rosa essiccati
White and red berries with dried rose hips
une couronne de baies blanches et rouges et boutons de roses sechés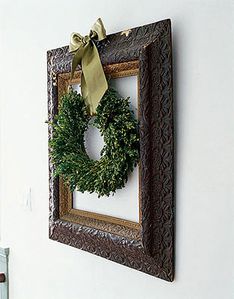 Una ghirlanda di rami freschi oppure anche sintetica ma simpaticamente legata con fiocco ad una cornice quasi importante!
A fresh green branches wreath , also synthetic but nicely tied with a golden bow and fixed in the middle of an almost important frame!
Une couronne de barnches vertes fraiches , mais aussi synthétique, à fixeravec un flocon doré dans cadre .. plus ou moins important !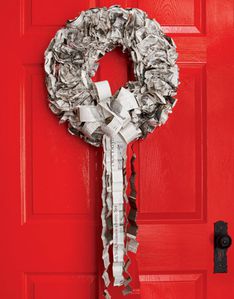 Una ghirlanda solo di piccoli pezzi di giornali con fiocco e nastro altrettanto con le ultime notizie!
A wreath entrirely decorated with piece of newspapers , included bow and ribbons with the last news!
Une couronne entierement fait avec de petites bandes de papier de quotidiens , y compris le flocon et le galon avec les dernières nouvelles!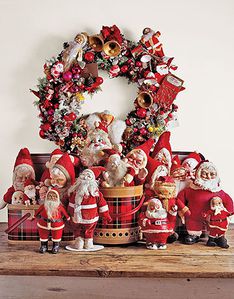 Come riciclare tante piccole decorazioni natalizie che non volete più vedere sull'albero? Con la colla a caldo le attaccate ad un cerchio in fil di ferro oppre in polistirolo . Geniale..
How to recycle old Xmas decorations you don't want to put on your tree anymore: hot-glue them on a wire or styrefoam base and it's a good idea for somethign funny and colourful!
Comme ricyler des décorations de NOEL que vous ne voulez pas sur votre arbre de Noel: avec la colle à chaud fixez-les sur une base en fil en fer ou bien en polystyrène.