22/03/2016
Questa volta lo scambio ATC mensile dedicato ai paesi del mondo ha un duplice valore : quello di promuovere un Paese bellissimo , con della gente formidabile , gentile ed onesta , e quello per ricordare la ferita che oggi è stata aperta alla sua Capitale, Bruxelles(che amo tantissimo!!) , con duplice attentato da parte di codardi assassini che nessuna religione o ideologia politica può giustificare:
Non lo è stato per Parigi il 13 Novembre 2015 ,per la Costa d'Avorio, per ill Museo del Bardo diTunisi , non lo è per Bruxelles , non lo sarà per nessuna altra parte del globo. Loro saranno sempre perdenti .
Qui di seguito lo scambio mensile con Michèle d Brest, Francia : la cara Michèle ha avuto molta pazienza ad aspettare che il mio ATC arrivasse , grazie mille cara amica!!
This time the ATC monthly swap has assumed a double meaning and value : one, to promote a wonderful country , with very nice , kind and honest people , second to remember the wound opened today after the terroristic attack at Brussels(capital city that I do love!!) airport and Tube by coward killers that no religious faith or political ideology can justify : it hasn't been for Paris, last Nov.13 ,it was not for the Ivory Cost brutal attack, it was not at the Bardo Museum in Tunisia , it is not for Brussels and it won't be justified for any other place
Below the ATC Belgium swap with Michèle of Brest .
Cette fois , l'échnage ATC a une double valeur : celle de promouvoir un Pays merveilleux , avec des gens très gentils and très honnets , secondo pour se souvenir de la blessure ouverte aujourd'hui par les attentas terroristiques à Bruxelles , caitale que j'aime beaucoup! Il n'a aucune religion ou idélogie politique qui peut justifier cela : on l'a pas justifié ò Paris le Novembre passé, ni en Cote d'Ivoire, ni au Musée Bardo de Tunis, ni ici à Bruxelles et il ne seront jamais justifié des actions pereilles.
En bas, regardz l'échange entre Michèle de Brest et moi.
Michèle → Gloria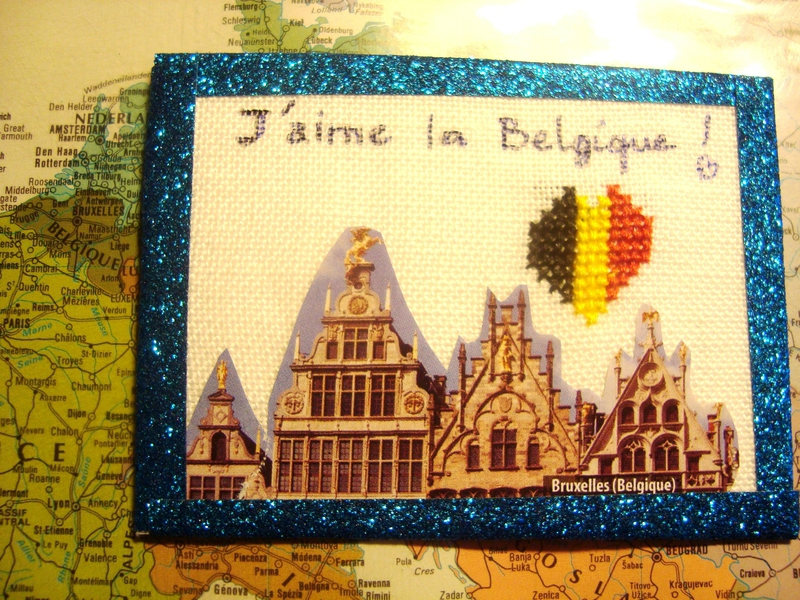 Gloria → Michèle