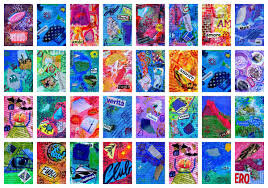 Eccoci a LUGLIO 2018 con lo scambio"Véronique Enginger " che porto avanti con Michèle di Brest, Francia.
Per chi non riuscisse a vedere bene nel mio ATC , la figura in mezzo, si tratta di un cagnetto con capellino alla marinara. L'ho ricamato esattamente come era lo schme di Véronique Enginger !
Here we are , July ATC exchange "Véronique Enginger" . Michèle and I interpreted this hot month in this way.
In my ATC , the little embroidery in the middle is a little dog ...
Voilà l'ATC 2018 pour Juillet , l'échange "Véronique Enginger" fait avec Michèle de Brest .Dans monV.Enginger l'avait reproduit exactement comme ça dans sa grille!