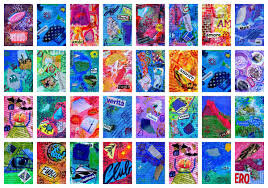 Lo scambio ATC per il 2018 continua , con Michèle ed ecco, con ritardo, il mese di Ottobre 2018.
The ATC exchange for 2018 goes on with michèle and, a bit late , here is the one for the month of October 2018.
L'échange ATC 2018 continue avec Michèle et , avec un peu de retard, voilà celui dìOctobre 2018.
Gloria -Michèle