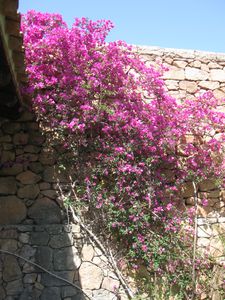 Altri gatti ??? sì, devo confessare : altri gatti! io sono più amante dei cani ma non mi trattengo davanti a pupazzi, disegni, lavoretti a ricamo
anche con i gatti.
Questo progetto viene da Cucito Creativo, rivista mensile della creatività soprattutto improntata al cucito in particolare country . Ci sono tante idee simpatiche da riprodurre ed "adattare" secondo il proprio gusto e FANTASIA ! Questo progetto, fra l'altro ha la firma di una grande artista realizzatrice di lavori a Patchwork e Quilting , Gianna Valle Berti che - fra l'altro- è della mia città, Parma .
More Cats as you see, even if somehow I prefer dogs! But cats in embroidery , sewing , painting patterns are very nice and charming. This is an idea taken from an italian monthly magazine of creative /country sewing and this project was proposed by a truly professional Patchwork and Quilting artist , Mrs Gianna Valle Berti who comes from my own town, Parma .
Alors! encore des Chats vous pensez, et oui meme si j'aime plus les chiens . Mais les chats dans la broderie, la couture , la peinture semblent etre un petit plus chanrmants . Ce project a été proposé par un hebdomedaire Italien de couture créative et presenté par une artiste du Patchwork et Quilting, Mme Gianna Valle Berti qui vient... casuellement , de ma ville, Parma.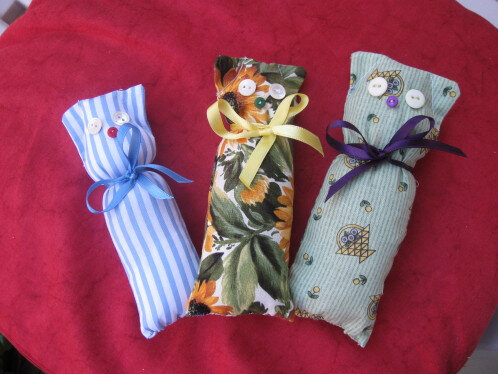 Ingredienti per i Gatti :
- 2 rettangoli di stoffa cotone in fantasia di circa 18cm x 8cm
- 18-20 cm di nastro in seta ( da 0,5 od 1 cm max) del colore che si abbini alla stoffa
- 3 bottoncini colorati o bianchi (occhi e naso)
- filo per cucire (anche e solo quello bianco)
- Imbottitura sintetica
- fiori di Lavanda
- essenza di lavanda (opzione )
Quindi si procede così :
- Tagliare i 2 rettangoli di tessuto come da modello e mettere diritto contro diritto (foto 1)
- Imbastire su 3 lati(2 lunghi ed 1 corto) e poi passare a macchina (foto 2)
rovesciate , tramite il lato non cucito, al dritto e passate con ferro caldo
- Segnate come da modello i 2 lati (ca. 2cm) e segnalati con la matita(foto 3) per stoffa oppure
imbastiteli direttamente . Cucire a macchina .
- Per imbottire, potete usare interamente l'imbottitura acrilica spruzzata di qualche goccia di essenza
di lavanda OPPURE parte di imbottitura acrilica e il resto con fiori di lavanda essiccati OPPURE solo
fiori di lavanda.
- Chiudere il lato corto inferiore (rimasto aperto per imbottire )a piccoli punti
- Fissare gli occhi (2 bottoni stesso colore) ed il nasino (3° bottone magari di colore diverso)
- Avvolgere il nastro di seta attorno al collo , fissarlo con nodo e fare un fiocchetto
Foto 1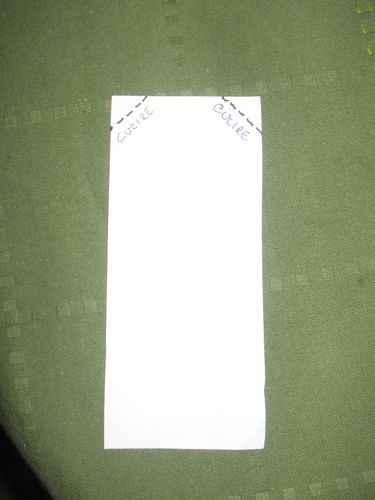 Foto 2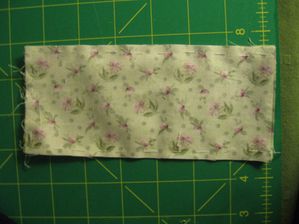 Foto 3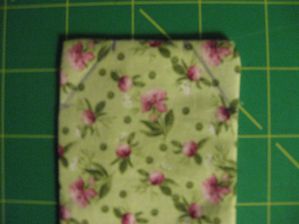 Avete finito !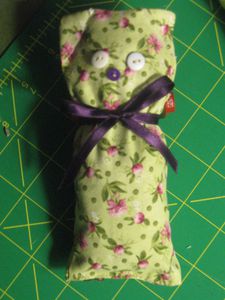 For 1 Cat you need:

- 2 pieces of print cotton fabric about 18cm x 8cm each
- 18-20 cm of silk ribbon (0.5 or 1 cm high max) color matching the fabric print
- 3 buttons colored or just white (eyes and nose)
- Sewing thread
- Synthetic filling
- Dried lavander flowers
- Lavender essence (optional)
Then proceed as follows
- Cut 2 18x 8 cm pieces of fabric as shown in the pattern and put right against right (photo 1)
- Baste 3 sides (2 long & 1 short) and then move to machine (photo 2)
- Turn the fabric inside out (from the short side open) and press it with hot iron
- Mark on the upper corners as shown in the pattern the two ears(approx.2 cm from the edge) with a fabric marker
or baste them directly. Then, sew them .
- For filling the cat, you can fully use acrylic filling with some drops of lavander essence OR some filling mixed
to some lavander pot-pourri OR just filled it up with only lavander pot-pourri .
- Close the short side still open with short stitches
- Wrap the silk ribbon around the neck , make a knot and then a little bow
******
Ingrediénts pour 1 Chat
- 2 rectangles d'étoffe en coton fantaisie, d'environ 18x 8 cm /ch.
- 18-20 cm de ruban en soie (0,5-1 cm d'hauteur max.) , couleur correspondante à l'étoffe
- 3 boutons blancs ou colorés (les yeux et le nez)
- Fil à coudre
- Rembourrage acrylique
- Pot-pourri de lavande sechée
- Essence de lavande (facultatif)
Ensuite, procédez comme il suit:

- Couper les morceaux d'étoffe comme un modèle et de mettre droit contre le droit (photo 1)
- Faufiler sur 3 côtés (2 de long et 1 court), puis couzes-les à la machine (photo 2)
Retourner au droit et repasser au fer chaud
- Marquer comme dans le gabarit les deux côtés (environ 2cm) ,avec un crayon (photo 3)les deux oreilles, ou
bien baster -les directement. Couser -les.
- Pour le rembourrage , vous pouvez utiliser entièrement le rembourrage acrylique avec quelques gouttes d'essence
de lavande ou bien le rembourrage acrylique mélangé avec le pot-pourri de lavande ou bien remborrer le chat avec seulement
du pot-pourri à la lavande.
- Fermez le côté bas laissé ouvert (pour le rembourrage) avec de petits points
- Fixer les yeux (2 boutons de la même couleur) et le nez (3ème bouton peut-être d'une couleur différent
- Enroulez le ruban autour du cou, fermez-le avec un noeud et fabriquez une rosette .
Terminé!