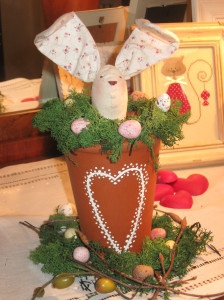 Un coniglietto è sempre presente per Pasqua ed è , come questo qui , un pò come l'alberello di Natale : si tira fuori dalla scatola ad ogni Pasqua e fa sempre la sua bella figura !
Su un progetto di TILDA , ecco un coniglio spuntare da un vaso di terracotta , decorato da Gloria (probabilmente si vede!) . Il corpo del coniglio è dentro il vaso , le orecchie sono piegate dal fil di ferro all'interno .Il vasetto è decorato sul bordo da muschio islandese vero e da piccole uova di quaglia non vere ma di zucchero esternamente e cioccolato all'interno. Alla base un poco di muschio, qualche bacca e qualche rametto vero di montagna ..
A little Bunny is always present for Easter and , like this one, is more or less as your little Xmas tree : you take it out of its box at any Easter time and it is always charming and cute!
From one of TILDA's projects , here is my Easter Bunny sorting out of a small terracotta pot.The body is inside the pot , the ears are fold by a wire frame. The terracotta pot is decorated on the bord by real Islandic moss and unreal quail eggs, made with sugar and chocolate inside(!!!).The heart has been painted by Gloria .
At the base some more moss , some berries and some wood tree sticks from our mountains...
Un Lapin est toujours présent pour Paques et celui-ci est comme, plus ou moins , le sapin de Noel : on le garde pendant l'année et le Paques on le sort de sa boite et il est toujours si joli et mignon!
D'un projet de TILDA , voilà mon Lapin de Paques sortant d'un petit vase en terre cuite. Son corps est à l'interieur du vase , ses oreilles sont pliées par le fil de fer . Le vase en terre cuite est décoré sur le bord par de la mousse islandese originale et des ouefs de caille en sucre et chocolat (uhmmm!) .Le coeur ? C'est moi qui l'a peint !
A la base encore de la mousse , quelques baies , quelque branches en bois de montagne...