Come vi ho accennato diverse volte, il mese di Gennaio è ottimale
per contianure a ricamare il Natale , soprattutto lavorare sui lavori lasciati in sospeso ,
che sono diversi . Così finalmente vi posso mostrare il piccolo BANNER con Santa Claus
su schema di RICO DESIGN . Lo schema era con la tela in lino, la cornice in metallo, i filati,
l'ago e le stelline di decorazione nello stesso Kit .
risultato...
As I told you in the past, January is one o my favourite months to embroider Christmas subjects
and to complete those which have been left aisde to give precedence to something else.
This Banner one of my unfinished works, now completed and ... ready for next Christmas!.
Santa by RICO DESIGN , a kit including pattern and instructions ,linen fabric , needle, cotton threads,
wire hanger, star decorations.
The result is ...
Comme je vous ai dit autrefois , le mois de Janvier est pour moi idèal pour continuer
à broder NOEL (le temps, le froid, la neige ..) et donc pour terminer ,
au moins parteillement, les encours . et voici mon dernier encour-non-plus , ce joli SANATA par RCIO DESIGN. le kit contanait la grille , la bannière en lin , les fils, l'aiguille, accroche suspension broderie .
et le rèsultat est ....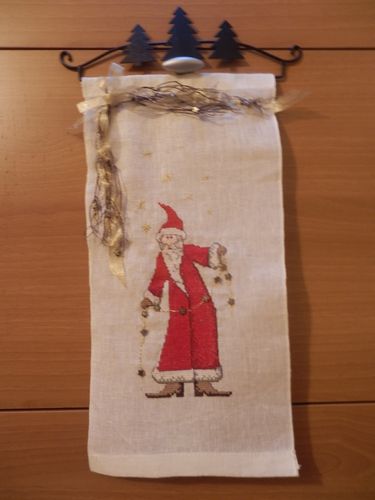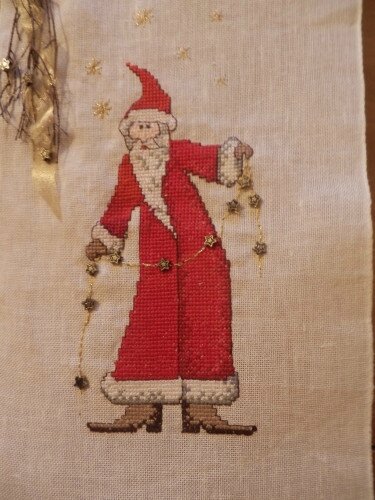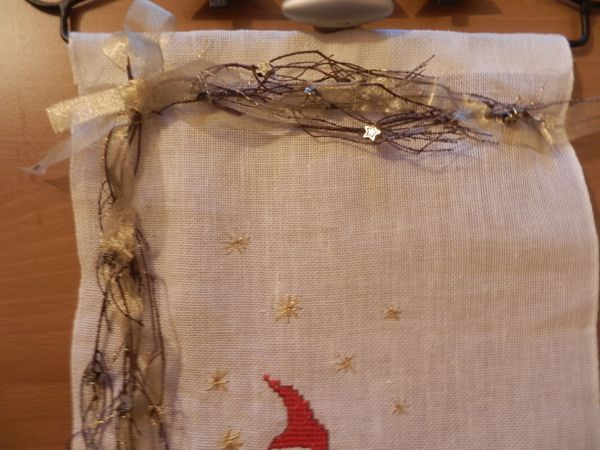 Dettagli. la decorazione è fatta con legnetti VERI fissati con filo dorato DMC e avvolti in nastro satin dorato con stelline fissate sopra
Details: this deration has been made with true wood sticks fixed with DMC gold thread , fold up in a satin golden ribbon and decorated with little stars
Détails : La décoration a été fait avec de petits bois vrais fixés avec du fil doré DMC enroulés par le ruban satin doré avec de petites étoiles fixées dessus .