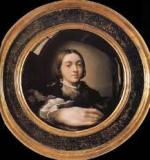 Nel 2003 Parma ha festeggiato i 500 anni dalla nascita di un grande suo figlio, Franesco Mazzola detto IL PARMIGIANINO (1503-1540) . La Galleria Nazionale della città ha ospitato una delle più grandi mostre dedicate all'artista ed al Manierismo Europe .
In quell'occasione feci alcuni lavori a decoupage in particolare su richiesta di alcuni amici e conoscenti che volevano regalare piccoli ricordi del pittore ad altrettanti amici e parenti.
Così, ho ripreso le foto dei dipinti più importanti, i particolari di alcuni e di famosi affreschi e li ho riportati su oggetti, vassoi, scatole di varie forme, pannelli , cache-pot ecc..
Come succede in queste occasioni, consegna a questo e quello, alla fine ben poco è rimasto a me .
Questo è uno dei due pezzi che ho conservato. L'altro, La Schiava Turca, ve lo mostrerò più avanti .
This is the self portrait of one of the most famous Italian painters , Francesco Mazzola called Il Parmigianino , who was from Parma .
In 2003 Parma celebrated 500 years of his birth (1503) and a huge international painting exhibition was opened I decided to celebrate him on a wooden round box where i fixed one of his self portrait that he seems to have done through a mirror.
En 2003 Parma a célébré 500 ans de la naissance d'un de ses fils , Francesco Mazzola, dit le PARMIGIANINO . Il est un de plus importants painteurs italiens et pour cela sa ville a ouvert une de plus belles expositions de paintures d'Europe . J'ai trouvé joli le célébrer en faisant du decoupage sur une boite en bois ronde : c'est son self portrait qu'il s'est fait avec l'aide d'un moroir!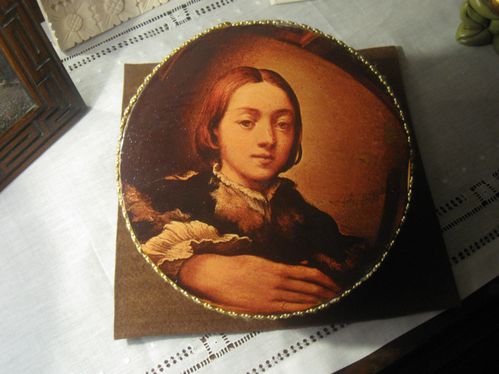 "AUTORITRATTO ALLO SPECCHIO " , PARMIGIANINO, 1524 - Kunsthistorisches Museum di Vienna.
1.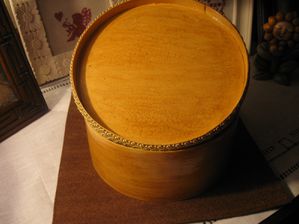 2.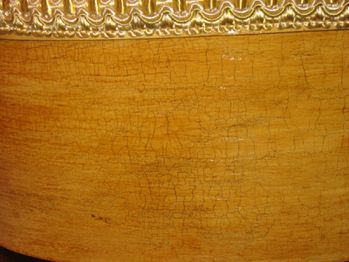 3.