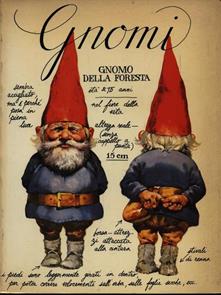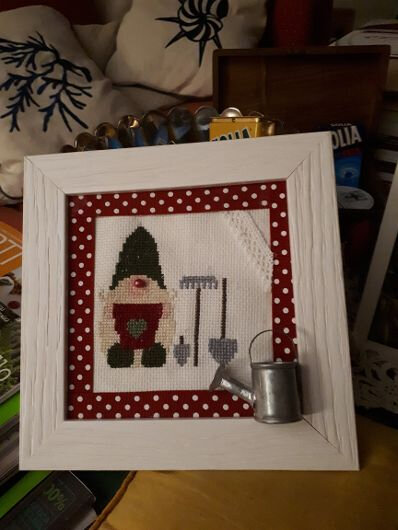 Vi ricordate il contest dello GNOMO orgniazzato dall'amica Barbara con Chiara di Mat & Me? Bene, non sono stata la vincente ma le "Ragazze" hanno voluto premiare le partecipanti (ma sono arrivata 2°!!) e così una mattina nella cassetta della posta , la busta con un graziosissimo pezzo di tessuto Aida fantasia verde e azzurro da ricamo insieme a 3 matassine abbiante a questi colori, un nastro di raso verde e uno spillo con stellina a decoro. Veramente troppo carine e gentili, le Ragazze e regalo inaspettato, visto che mi è piaciuto moltissimo lo schema da ricamare e ho partecipato con piacere.
You perhaps remember the contest "Gnome" organized by Mat and Me and friend Barbara ? Well I didn't win the contest but I was 2nd . I was delighted to attend this contest and embroider the pattern and such a sweet gnome! So, I don't really mind if I wasn't first.
Barbara and Chiara(Mat & Me) sent to all participants, however, a little present for attending the competition and I was amazed when I saw the present they sent me: a nice light blue and green AIDA fabric to embroider , 3 skeins same colours as the fabric, a green silk ribbon and a decorative pin-star.
A la suite du contest "Gnome" , je suis arrivée 2ème et je suis super contente . J'étais bien interessée à broder cette grille du grnome,
et donc je fais les compliments à la copine qui a vaincu le contest.Mais Chiara de MAT & ME et Barbara de Follemente creativa ont décidé d'nevoyer un tit cadeau à toutes les copines qui ont participè et j'ai reçu une enveloppe avec un morceau de tissu AIDA à broder ,avec des couleurs bleu claire et vert, ainsi que 3 échevettes de la meme couleur , un ruban vert et une épingle avec un tit étoile déco.
super cadeau!!!