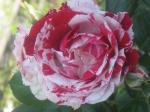 Una bella scatola anonima , piena di foto e ricordi di famiglia, è diventata più importante dopo essere sta rivestita con il ricamp che mia sorella Flò ha fatto per me per il mio compleanno .Bello , eh? Lavoro su lino molto raffinato e molto preciso !
A nice box in which I collected some of my Family old photos and souvenirs , quite anonymous but enriched and turned more beautiful thanks to my sis Flò who embroidered the top on fine linen with my initial letter, a gift for my birthday (March, 1).
A nice and precious gift, indeed!
Une jolie boite où je garde de nieilles photos et des souvenirs de ma Famillw, plutot anonyme , mais qui a été enrichie par la broderie sur lin , avec ma lettre initiale et que ma soeur Flò m'a dédié pour mon anniversaire. J'ai mis quelques matelas pour le tenir en place et j'ai ajouté deux rubans différants. Joli, eh?