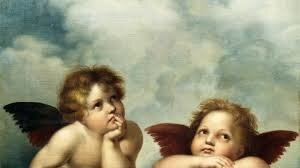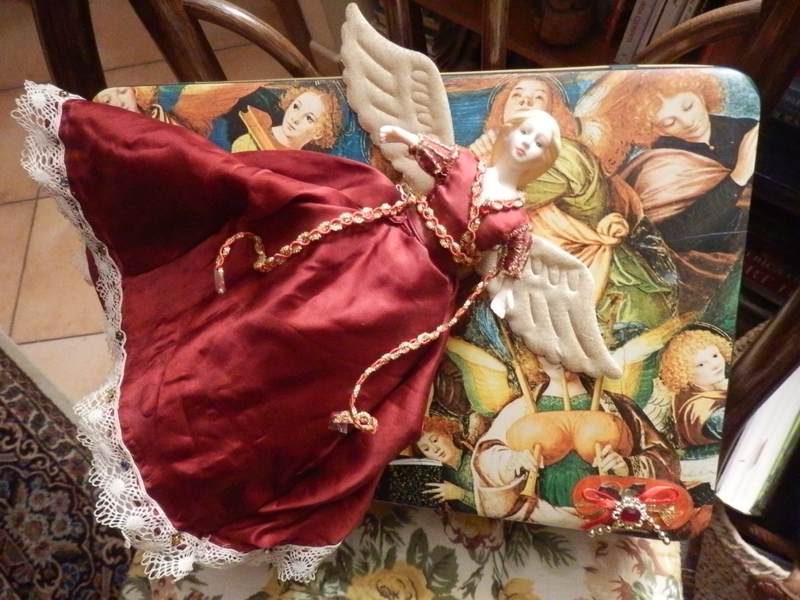 Una volta i biscotti venivano confezionati in preziose scatole da regalo e quella che avevo in casa era decisamente bella , quasi importante.
La scatola apparteneva ad una delle primarie aziende di biscotti e pasticcini d'Italia .
I coperchi delle scatole solitamente riportava panorami molto scenogrfaici, fiori, ma anche affreschi e monumenti importanti.
Questa che vi faccio vedere riporta un affresco di Gaudenzio Ferrari del 1535 che è parte della cupola del Santuario di
Saronno, dove sono dipinti 126 angeli con 57 strumenti musicali, i più appartenenti a quell'epoca. Nello stesso tempo
avevo un bellissimo Angelo che avevo fatto utilizzando certi componenti comprati negli USA (testa, braccia ed ali) e
facendogli un abito di seta rosso e decorato con trine. non potendolo utilizzare se non qualche giorno a Natale, ho
pensato di decorare la mia grande scatola che non contiene biscotti ma PIZZI e centro tavola .
Mi sembra un'idea simpatica .
Once, cookies used to be packed in precious metal gift boxes . I had one at home very beautiful, almost important.
The box was produced for one of the most leading biscuit and pastry companies in Italy.


T

he tops of the boxes usually reported very nice scenic views, flowers, but also frescoes and important
Italian and foreign monuments. 
This one that I am showing you shows a fresco by Gaudenzio Ferrari from 1535 which is part of the dome 
of the Sanctuary of Saronno, 
where some 126 angels are painted with 57 musical instruments , most of which of that period.
 At the same time I had a beautiful
 Angel I hand made also using certain components bought in the USA (head, arms and wings),sewing 
a red silk dress decorated with laces and trimmings. 
 I decided to decorate my large box with my Angel , while the box is containing laces, table centerpieces, doilies. 



Sounds like a nice idea .....




Autrefois, les biscuits étaient emballés dans des boites- cadeaux en métal . J'en avais une à la maison très belle ,
 je dois dire,presque important.
La boîte a été produite pour un des plus grands producteur de biscuits et de pâtisseries en Italie.
Les couvercles des boîtes sont généralement décorés avec de très belles vues panoramiques, des fleurs,
 mais aussi des fresques et des
monuments italiens ou étrangers.
Celui que je vous montre montre une fresque de Gaudenzio Ferrari peintre du 1535 et décore una partie
 du dôme du Sanctuaire 
de Saronno,où 126 anges sont peints avec 57 instruments de musique. En même temps, j'ai réalisé d'avoir
 une belle poupée-Ange 
que j'avais fait main en utilisant certains trucs achetés aux USA (tête, bras et ailes),j'ai cousu une petite
robe en soie rouge ornée de lacets et garnitures.
J'ai décidé de décorer ma grande boîte avec mon Angel et j'ai mis dans la boîte des dentelles et des napperons.
Une bonne idée ?.....
 centrini-doilies-napperons