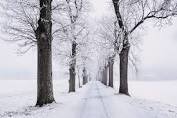 Mi scuso subito con chi non condividerà il mio piacere nel vedere scendere la neve in città. Sono d'accordo e per esperienza so quanto sia difficile muoversi in città o fuori con la neve per andare al lavoro, a scuola ecc.. ma la bellezza della neve quando cade, il panorama ovattato che crea ovunque ispira ...pace e tranquillità oltre ad essere una bellezza per gli occhi . Parma ha "assaggiato" la prima neve della stagione fredda ed è stato un piacere immenso scattare le foto nel nostro giardino !
I apologize with those who won't share my feelings regarding a snow fall in town .I agree with the fact that snow, specially in large amount, can create heavy problems to many and , on the basis of my personal experience , is often a hell of a job to drive to work , to school ,etc.. However I am always very fascinated when snow falls and turns the landscape in something soft, tender , peaceful . Parma, my town, has "tasted" the first snow of the season and I didn't lose the chance to catch some pictures of my garden covered by a gentle white mantle.
Je m'excuse auprès de ceux qui ne partageront pas mes sentiments concernant la chute de neige en ville. Je suis d'accord avec le fait que la neige, surtout en grande quantité, peut créer de graves problèmes pour beaucoup de gens et, d'après mon expérience personnelle, est souvent un travail énorme pour se rendre au travail, à l'école, etc. Cependant, je suis toujours très fascinée lorsque la neige tombe et transforme le paysage en quelque chose de mou, tendre, paisible. Parma, ma ville, a « goûté » la première neige de la saison et je n'ai pas perdu la chance de prendre des photos de mon jardin couvert d'un manteau blanc doux.