Un cuore da dedicare su un cuscinetto, per esempio, con l'iniziale della persona a cui si regala : semplice e di effetto.Ma anche da dedicare ad una donna, un'amica, una madre, una sorella ... una donna insomma perchè per combattere la violenza sulle donne bisogna sempre avere CUORE!!
Un coeur à dédier sur un coussinet, par exemple, avec la lettre de la personne à laquelle on le dédie : simple et de grand effet.Il faudrait la dédier à une femme , une amie, une soeur, une mère,une collègue.. une femme , en tout cas, parce que pour combattre la violence sur les femmes il faut toujours avoir COEUR!
A heart to dedicate on a small cushion, for instance, with the initials of the person you devote the work: simple and of very effective.A heart to dedicate to a woman, a neighbor, a gal friend, a sister , ... a woman , cause for fighting the violence on women it's always necessary to have a HEART!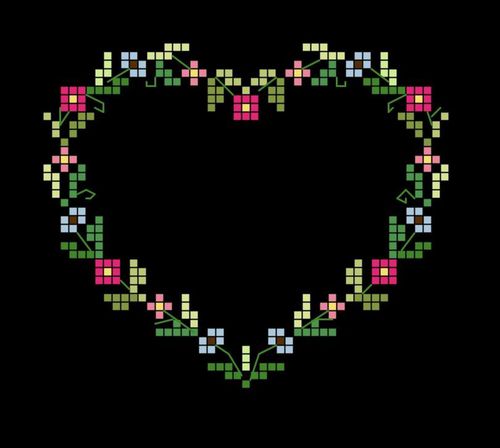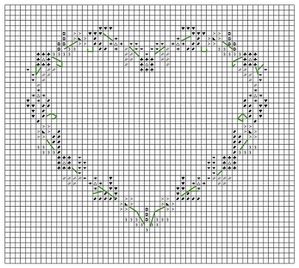 Title: Un cuore da dedicare
Author: EZE
Copyright: eze
Grid Size: 56W x 50H
Design Area: 8,53 cm x 7,26 cm (47 x 40 stitches)
Legend: Stitches
I DMC 726 topaz -lt
– DMC 898 coffee brown - vy dk
î DMC 469 avocado green
# DMC 471 avocado green - vy lt
ˆ DMC 3325 baby blue - lt
~ DMC 367 pistachio green - dk
L DMC 3733 dusty rose
* DMC 601 cranberry - dk
+ DMC 472 avocado green - ul lt
- DMC 3348 yellow green - lt
3 DMC 987 forest green - dk
Legend: BackStitch Lines
DMC 987 forest green - dk ___________