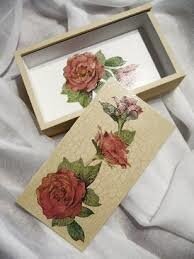 Mi è sempre piaciuto il decoupage e spesso ho realizzato oggetti diversi con questa tecnica. Vi mostro l'ultimo lavoretto fatto e finito: una scatola in legno grezzo lavorata e decorata con rose , un bellissimo fiore. Dentro la scatola, una parte dei ricordi d'infanzia :in realtà mi occorrerebbe un baule per mettere tutti i ricordi insieme , chissà forse più avanti vi mostrerò il baule a decoupage!!!
I have always loved the art of decorating called DECOUPAGE and decorate different objects made in different materials, like wood, glass, alluminium, fine china , etc.. even when the object were old and rusted.It is a way to give ojjects a new life!
This time I decorated a wooden box where I put part of my life memories. Indeed, I should decorate a chest with ALL my memories.. but for the time being I 'll keep a bit in my new lovely decoupage box.
J'aime beaucoup le découpage et décorer différants objets en fer, aluminium, vitrail, céramique, bois etc..meme quand les objets sont sérieusement vieux et rouillés: c'est un bon moyen pour leur donner une nouvelle vie!!
Je viens de dècorer ce boite en bois pour garder une partie de mes souvenirs : j'ai dit une partie puisque ils sont beaucoup et je devrais les réunir tous dans un grand coffre : Pour l'instant , je garde ma "petite" boite décorée et demain... on sait jamais!