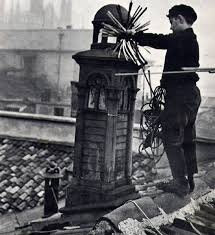 Lo spazzacamino è un mestiere nato alcuni secoli fa. In Italia come il resto d'Europa per fare questo mestiere si prendevano bambini e ragazzi dalle famiglie oppure mendicanti o orfani. La caratteristica che questi ragazzi dovevano essere obbligatoriamente molto magri per poter accedere agevolmente nella canna fumaria e pulirla bene .Le canne avevano una circoferenza di circa 23-24 cm e spesso si presentavano situazioni molto pericolose, tanto che non pochi piccoli spazzacamini furono vittime di incidenti come rimanere esposti ad effluvi cancerogeni o essere soffocati o morire bruciati . La Val Vigezzo,nella provincia di Verbano-Ossola, in Piemonte, è chiamata "la valle degli spazzacamini" per il gran numero di ragazzi che soprattutto tra il Seicentoe il Settecento emigrarono nel Nord Europa per diventare Spazzacamini "professionisti". Era un modo per poter portare a casa qualche soldo ed aiutare la famiglia !

(da/From/de Internet-Wikipedia)
The Chimney sweeper is a work which was created a few centuries ago. In Italy like in the rest of Europe people used to leave that this job
 was carried out mainly by children and young people from poor families or beggars or orphans. 
The characteristic that these children should have to do this job was to be very thin in order to easily enter the chimney and clean it well. 
Children used to climb the hot flues which could be 23-24 cm narrow...Often they felt in very dangerous situations and several of them were vistims 
of serious incidents as get jammed in the flue, suffocate or burnt to death.
The Val Vigezzo,in the Province of Verbano-Ossola of the region of Piedmont, is called the" valley of the chimney sweepers " for the large
 number of boys who, between the seventeenth and eighteenth centuries in particular, emigrated to northern Europe and
became "professional " chimney sweepers there and get some money to support their families!I wonder , nowadays, how many children would be willing 
to do this job and get some money instead of chiedere l'elemosina all'angolo della strada ...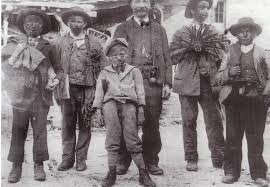 Le ramoneur est un métier né il y a quelques siècles. En Italie, comme dans le reste de l'Europe, pour faire ce travail 
on prenait surtout des enfants et des jeunes de familles pauvres ou des mendiants ou des orphelins.
 La caractéristique que ces petits devaient celle d'être très mince pour entrer facilement dans la cheminée et la nettoyer bien.

Les enfants grimpaient dans les conduits chauds qui pouvaient etre 23 à 23 cm de circonférance ... Souvent, ils se trouvaient dans des situations
 très dangereuses et plusieurs d'entre eux ont été victimes d'accidents trés graves comme respirer de vapeurs cancérigènes dans la cheminée,
 s'étouffer ou être brûlé.
 La Val Vigezzo, dans la province de Verbano-Ossola dans la région du Piémont, est appelée "la vallée des ramoneurs pour le grand nombre 
de garçons qui, surtout entre le XVIIe et le XVIIIe siècle, ont émigré en Europe du Nord pour devenir de ramoneurs "professionnels"
 et gagner un peu plus d'argent pour soutenir leurs familles . 
Figura romantica, lo spazzacamino , specie se si tratta dell'adorabile BERT lo spazzacamino innamorato di Mary Poppins!!
A romantic character, the chimney sweeper, in particular if we talk about the adorable BERT ,the chimney sweeper in love with Mary Poppins
Un caractère très romantique , particulièrement cet adorable BERT , le ramoneur amoureux de Mary Poppins