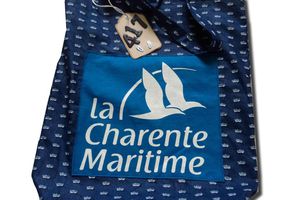 Non è la prima volta che partecipo a questo "passaggio" di regali itinerante che trovo assolutamente molto simpatico.
Questa volta il Sacco proviene dalla regione francese della Charente Maritime(bellissima regione, ve lo garantisco!!) e l'idea di farlo viaggiare è stata di Erika che l'ha fatto viaggiare per migliaia di chilometri dalla Francia a Tahiti e poi ancora in Francia ed in Italia.
Nel Sacco in foto 1 c'erano oggetti hce particano dalle mani di Erika per far conoscere la Charente Maritime , opuscoli e libri da leggere e cha dovranno ritornare ad Erika alla fine del viaggio.
Il Sacco mi è arrivato da CELINE che non ha blog ma che spero possa leggere sul mio altri ringraziamenti per i regali che mi ha inviato!(foto 2) ed è ripartito per la regione della Dordogne(FRancia) dove ho mandato i miei regali a Patricia (foto 3). Grazie ad emtrambe per aver partecipato e grazie ad Erika di avermi ammesso a questo bellissimo ...giro di sacco!!
1.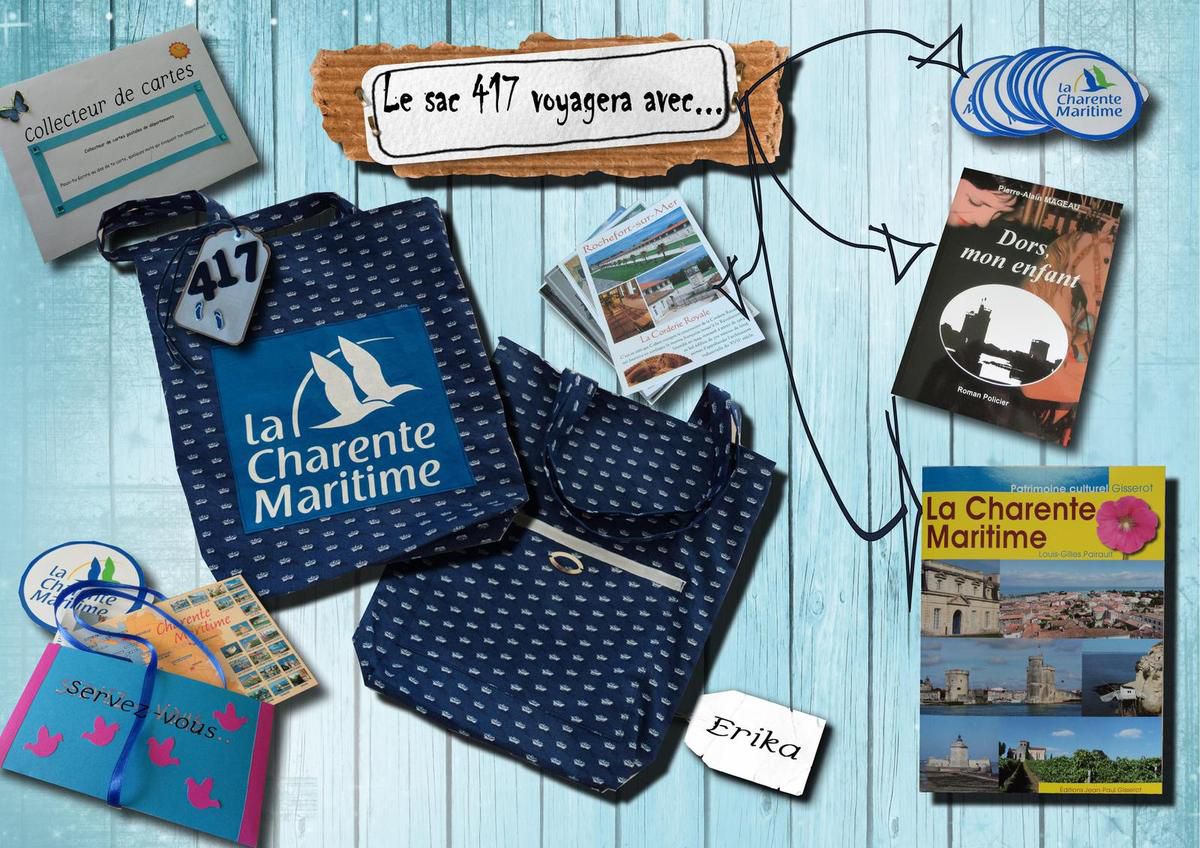 It is not the first time I share this game of the gifts bag tour .This time the Bag 417 left the French region of Charente Maritime (beautiful region, I can tell you!) and Erika organized the game , putting inside some items introducing her region, pamphlets, books, postcards( see photo 1) to return to her when the bag trip is over . The bag travelled from France to Tahiti to France again to Italy and again to France...Inside the bag I recceived from Céline who is without a blog but I wante to thank once again , I found some beautiful gifts (see photo 2) . I sent the gifts bag to Patricia , in the regiong of Dordogne, and add my gifts to her ( see photo 3).
Thank you to Céline and Patricia to have shared with me this lovely game and many thanks to Erika who arranged it and gave me the chance to participate.
Ce n'est pas la 1ère fois que je prend partie à ces tours de sac à cadeaux.Cette fois le tour du sac a étè organisé par Erika de la Charante Maritime , très jolie region, et le sac a voyagé de la France à Tahiti et encore en France, en Italie et encore en France en parcourant kilomètres et kilomètres. Dans la photo 1 , ce que Erila a mis dans le sac partant pour présenter sa region et qui retournera chez elle à la fin du voyage. Dans la Photo 2 les cadeaux que j'ai recu de Céline (de la region de la Gironde ) , très beaux cadeaux!
et dans la photo 3 (que j'ai pris du blog de Erika pusique j'avais oublié de la prendre) , les cadeaux que moi, j'ai envoyés à Patricia en Dordogne .
Je dois remercier encore une fois Céline et Patricia pour avoir partagé avec moi ce joli échange de cadeaux et un gros merci à Erika qui a organisé tout et m'a permis de participer!
2.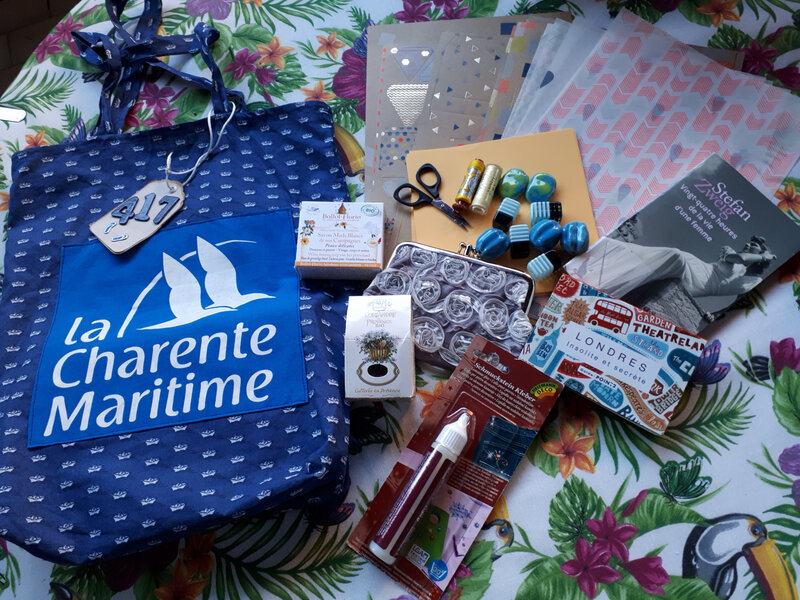 3.
3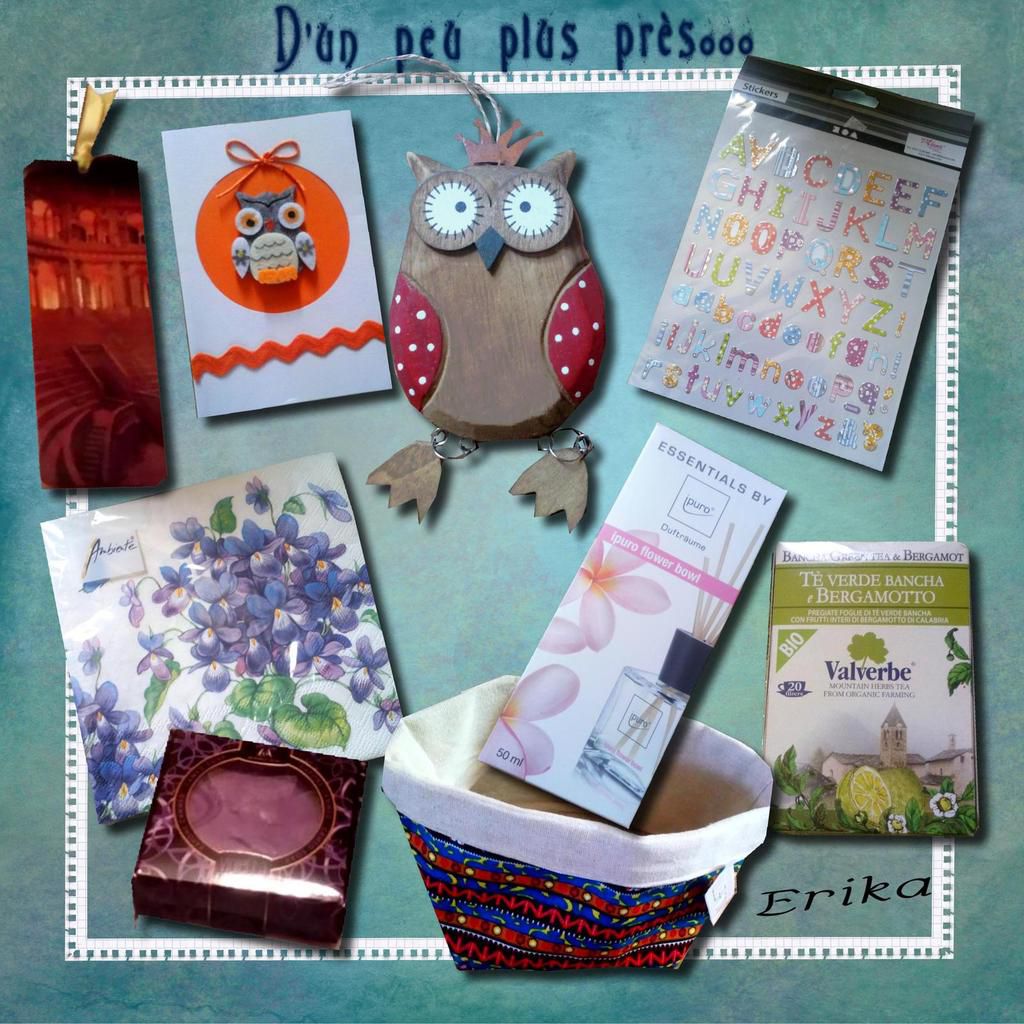 Ho rubato la foto ad Erika dei miei regali! I stole the picture of my gifts from Erika's blog!!! J'ai volé la photo de mes
cadeaux du blog d'Erika... quand on oublie de prendre des photos...!!!