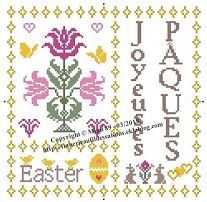 Ho deciso di prendere parte ad un nuovo piccolo SAL per la prossima Pasqua , organizzato da MIMI89 in 4 tappe. Ecco la prima tappa.
I decided to share the new little Easter SAL 2018 organized by MIMI89 (4 steps). Here is the first step.
J'ai décidé de partager le nouveau petit SAL de Paques 2018 organisé par MIMI89 en 4 étapes .Voilà la 1ère étape.