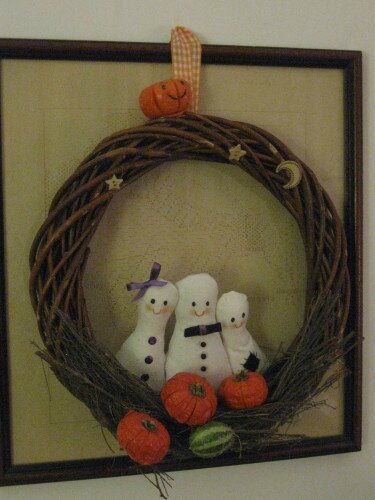 Ed ecco che alla mia non più tenera età , ho pensato e fatto una piccola decorazione da mettere fuori dalla porta d'ingresso per celebrare l'autunno e... un poco Halloween (festa, sì, non nostra ma molto simpatica).
Con una ghirlanda in rattan , qualche rametto di legno retaggio del Presepio dell'anno passato, 3 simpatici pupazzi che ho cucito e decorato,3-4 simpatiche mini-zucche e 1 mini-melone ecco la ghirlanda d'Autunno .Niente di speciale ma una famiglia simpatica e .. ridente 1 A proposito , le zucche misurano circa 2,5-3 cm e sono, come il melone(2 cm!) produzione originale olandese !. Le ho trovate da una fiorista , trovandole assolutamente fantastiche!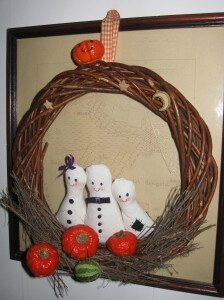 I am not that young as you might believe but, nevertheless, I like sometimes to create some nice seasonal items as this wrreath to hang on our main door , celebrating Fall and a bit Halloween (even if it's not an Italian/European event bu still nice and amusing!) .A rattan wreath, some wood sticks from last year Nativity, 3 smart ghosts that I sewed and decorated myself, 3-4 mini-pumpkins and 1 mini-melon ,some funny-shaped buttons and here is the fall wreath. Nothing special but it's nice to see that smiling ghost family ! by the way the mini pumpkins and melon are produced in that size (about 1-1,5 inch)by Dutch green nurseries, sold by some florists and very nice for home decorations!
Je ne suis pas très jeune mais, quand meme, j'aime bien réalizer de petites choses pour célebrer certaines périodes de l'année , comem l'automne et aussi un peu Halloween , meme si ceci n'est pas une fete trop europenne . Une couronen en rattan, de petits batons en bois (de la Creche de Noel passé) , une famille de fantomes que j'ai cousue et j'a décorée , 3-4 mini-citrouilles et un mini-mélon , quelque boutons à dècorer et voilà ma couronne à pendre hors de la porte d'entrée . Le sfantomes sont très sympa, je trouve, si souriants ! Soit les citrouilles que le mélon sont vraies et produits par les pépiniéristes hollandais , de dimensions de 2,5-3 cm et je les trouve très chouettes!