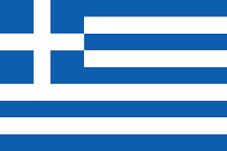 Per la serie ATC mensili "Paesi" organizzato da Corinne di Passionebroderie, ecco - per il mese di LUGLIO 2016 , la GRECIA e come Michèle , amica di Brest, ed io l'abbiamo interpretata.
For the 2016 ATC swap "Countries" here is the ATC of JULKy dedicated to GREECE . Please look how Michèle and myself have interpèreted thsi loveòly country!
POur l'échange ATC mensuel du 2016 dèdié aux PAYS, pour le mois de JUILLET , le Pays - sujet était la GRECE et vopilà comme Michèle de Brest and moi nous avons interpreté ce beau Pays! Merci beaucoup, Michèle!!!
Michèle-Gloria
Gloria - Michèle