Pasqua e Primavera insieme
Paques et Printemps ensemble
Easter and Spring together


Vi ri-propongo un'idea primaverile e pasquale di qualche anno fa , ma sempremolto carina , facile da creare e da diversificare secondo i propri gusti
I propose you again an idea for Spring and Easter home decoration which I had suggested some years ago. It is always a nice deco idea , easy to make and to turn in different versions.
Je vous propose de nouveau cette idèe pour le Printemps et pour Le Paques toujours très jolie, facile à faire et qu'on peut diversifier selon son gout !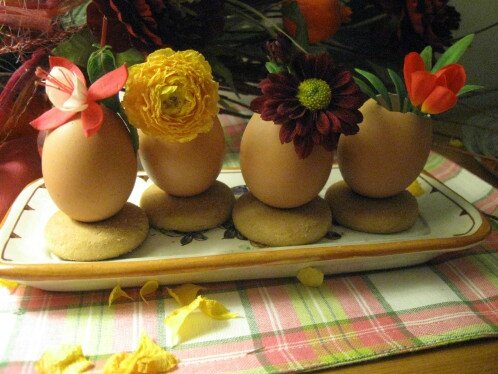 Piccola decorazione pasquale floreale Un buco non troppo grande (circa 2 cm diametro) nella parte alta di 4 uova , svuotare la uova bene (tanti i gialli ed i bianchi li potrete usare per frittate, uova , ecc.!) e riempirle con 2 dita di acqua .
Prendete 4 biscotti a ciambella , metteteli su un vassoietto di forma stretta ed allungata, rettangolare (ma dipende anche da quante uova volete mettere !) e sopra ogni biscotto 1 uovo con l'acqua. Dentro ciascun uovo, a voi la fantasia di mettere una margherita , una fucsia, un mini tulipano, una rosellina, un ranuncolo , utlizzando anche i fiori essiccati e nel caso siano fatti molto bene anche i fiori .. finti. E' fatto. Il mio ranuncolo essiccato premeva per entrare in una delle uova , la margherita rossa era un poco restìa ad essere tagliata dal suo vasetto e dalle sorelle, la fucsia era abbastanza indifferente mentre il tulipano assai freddo ed asettico (è finto) Un'idea semplice ed umile ma che mette allegria solo a prepararla.

Petit déco pour Paques Un petit trou de env.2 cm de diamètre à haut, vider chaque oeuf bien 8on peut utiliser les jaunes et les albumens vous seront utiles pour gateaux, omelette etc..) . Remplir les oeufs vides avec un peu d'eau- Sur un petit plateau rectangulaire (ou bien d'autre forme si vous avez plus que 4 oeufs) , arranger 4 petits biscuits-savarins et y mettere dessus les 4 oeufs . Dans chaque ouef , en jouant avec votre fantasie, vouz pouvez mettre n'importe quelle petite fleur , marguerite, fucshia,petit renoncule, petit tulipe ou rose ,.. et voilà c'est fait.
Une idée très simple mais qui donne joie seulement à la préparer.

Little flower decoration for Easter . Make a small hole( 2 cm / 1/2 inch diam.) on top and empty each egg you want to use (Yolks and white won't get lost cause you can bake cakes with, as well as omelettes et other delicious courses) . Fill each emptied egg up with a bit of cold water .
On a little rectangular tray (you'll use a bigger one in case of more than 4 eggs), place 4 biscuits/donuts on each of which you 'll put an egg . Then in each egg with water , according to your fantasy and taste, put a little tiny flower such as a daisy , or a buttercup,or a fucshia , a violet as you like. And the deco project is done ! Very simple and humble idea but it grants joy when you prepare it.