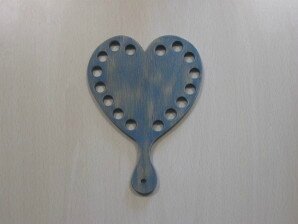 Il mio Horn-book un poco diverso nella forma agli originali quadrati o rettangolari ma ugualmente carino I primi Horn-books risalgono alla metà del XV secolo , nell'Inghilterra di Skakespeare (trovate una citazione nell'opera Love's Labour's Lost , Atto v) e anche in Scozia. A quell'epoca era fatto con una tavoletta di legno di forma per lo più rettangolare ,con un piccolo manico sporgente su cui era fissata un pezzo di pergamena o carta protetta da una sottile lamina in corno . L'horn-book veniva spesso chiamato, a quell'epoca ,"Crisscross" ( segno di croce) probabilmente perchè era solito riportare una croce nell'angolo in alto a sinistra seguìta dall'alfabeto e sillabari, e quindi da invocazione alla SS Trinità o voti e promesse o passaggi dalla Bibbia . Negli Stati Uniti arrivò con i Padri Pellegrini e i primi coloni , quando i loro bambini iniziarono ad utilizzarlo per imparare a leggere .
Nel manico sporgente dell'Horn-book c'era un buco attraverso cui si passava un nastro che a sua volta permetteva di fissare l'Horn-book alla cintura o alla fascia che teneva l'abito . La parola HORNBOOK viene dall'inglese Horn = corna e Book= libro
e questo è quello che in 1 ora ieri sera sono riuscita a fare per darvi solo un'idea... visto che non ho riportato abecedari , né tantomeno versetti biblici.
Un galletto rosso molto "alsaziano" , una matassina di DMC 815 con cui è stato fatto e un bottone a cuore per personalizzarlo
THE HORNBOOK
The hornbook was used by school children for several centuries, starting in the Mid-15th century, in Europe and America. It consistsof a wooden paddle with lessons tacked on and covered by a piece of transparent horn.
The wooden paddle was approximately 2 3/4" x 5" with an easy to hold handle. A hole was put in the handle so a leather thong could be tied to it and the child could carry it on his/her belt or around his/her neck.
The lessons consisted of different combinations of the following things: the alphabet, vowel and consonant combinations, the Lord's Prayer, a form of a cross, and a praise of the Trinity. These were hand written on a piece of parchment, then tacked to the wooden paddle.
The horn tacked on over the lessons was used to keep the lessons from being soiled by the child. The horn of oxen and sheep were used to make the laminating structure. The horn was left in cold water for several weeks, which separated the usable part from the bone. It was then heated, first in boiling water then by fire, and pressed by plates and machines to make it smooth and transparent.
As time went on, hornbooks were also made of a variety of other materials. They were made from ivory, various metals, leather and cardboard. They ranged from plain, whittled type, to carved type, to tooled, embossed, and engraved type.
Here is my own hornbook , useful to keep all (more or less) the threads I use for embroidery a pattern, I love my hornbook!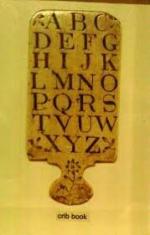 Le hornbook a été utilisé par les enfants de l'école pendant plusieurs siècles, à partir du milieu du 15ème siècle, en Europe et en Amérique. Il consiste d'une palette en bois avec des leçons plaquées sur et couvert par un morceau de corne transparente.

La palette en bois a été d'environ 2 3/4 "x 5" avec une poignée facile à tenir . Un trou a été mis dans la poignée pour une lanière de cuir avec lequel on pouvait lier la palette à sa ceinture ou autour de son cou.

Les leçons consistaient en différentes combinaisons des éléments suivants: l'alphabet, la voyelle et les combinaisons de consonnes, la Prière du Seigneur, une forme d'une croix, et un éloge de la Trinité. Ceux-ci ont été écrits à la main sur un morceau de parchemin, puis cloué à la palette en bois.

La corne cloué au fil des leçons a été utilisé pour éviter que les leçons pouvaient être contaminés par l'enfant. La corne de bœufs et de moutons ont été utilisés pour faire la stratification de la structure. La corne était laissé dans l'eau froide pendant plusieurs semaines, pendant lesquels la partie utilisable se séparait de l'os. Elle était ensuite chauffée, d'abord dans l'eau bouillante, puis par le feu, et pressée par des plaques et des machines pour la rendre lisse et transparente.

Comme le temps passait, les hornbooks ont également été faites d'une variété d'autres matériaux. Ils étaient fabriqués en ivoire, en divers métaux, en cuir et en carton. Ils allaient de type amenuisé plaine, type sculpté, à outillée, en relief, et le type gravé.
Ici, mon hornbook personnel que je peux utiliser pour mes fils (quand ils ne sont pas nombreux !) à broder . Je le trouve joli...