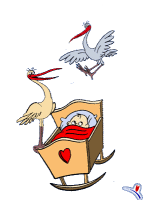 Forse le anime innocenti di Parigi rivivono ... e forse i neonati del 14 del 15 , di oggi , di domani andranno a prendere il loro.
Ieri 15 Novembre 2015 alle 10h27 è nata la mia 6° pro - nipote ..
questa è ANNA, figlia di Daniela , figlia di Floriana mi sorella .
Benvenuta , Anna !
Perhaps the souls of those innocent people who were slaughtered in Paris last Friday 13, Nov start coming back to life and perhapes the babies born in those days, and those of today and tomorrow will replace somehow their absence on this earth ...
Yesterday 15th November , at 10h27am, it was born my 6th grandniece... This is ANNA , daughter of Daniela who is my sis Floriana's daughter .WELCOME, ANNA!!!
Peut-être les âmes de ces pauvres innocents de Paris de Vendredì 13 Novembre vont rivivre and peut-être les enfants qui vont naitre dans ces jours et dans les prochains ,d'une certain façon remplaceront l'absence de tous ces innocents sur cette terre..
Hier 15 Novembre 2015 à 10h27 , c'est la petite ANNA qui est née, ma 6ème arrière-nièce 1 Elle la 2ème fille à Daniela (la 1ère est Irene) , la fille à ma soeur Floriana.
Bienvenue, Anna!!