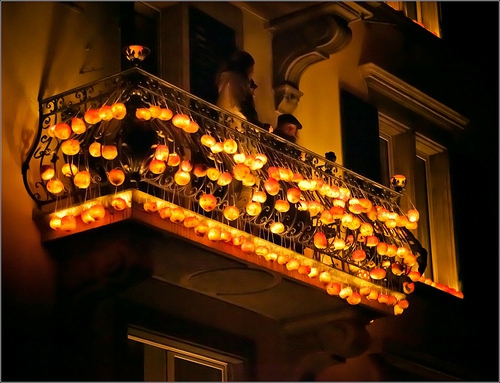 Nel Cantone svizzero di Zurigo (sul lago di Zurigo) tutti gli anni, il secondo sabato del mese di Novembre (quest'anno sarà il 7) ha luogo un festival particolare ,il Rἅbechilbi, più noto come una grande parata di RAPE ILLUMINATE !!! infatti "Rἅbe" è il termine (dialettale) che definisce la "RAPA".
La leggenda vole che abbia le sue origini nei sacrifici propiziatori dei contadini sull'ultimo raccolto prima dell'avvicinarsi dell'invermo. in quesi giorni, le donne erano solite andare alla montagna con le rape illuminate davavano luce alle stradine scarsamente illuminate nel tragitto dalla montagna alla chiesa per la messa di ringraziamento.
Così il secondo sabato di Novembre le strade del paesino diventano buia e si illuminano solo con migliaia di rape illuminate e che ogni anno disposte in maniera tale da esaltare sempre forme diverse e potete vedere qui sotto! Ovviamente sono migliaia e migliaia i partecipanti da ogni angolo del Paese e turisti.
The Swiss turnip festival is essentially fall block party mixed with some arts and a candle-lit parade.It takes place every year since 1922 , on the second Saturday of November (this year it will be Nov.7) .The "Rἅbechilbi" takes place in Richetrswil, a little village on the Lake of Zurich , Switzerland hnas takes its name after the dialect word "Raben" meaning " Turnip" .
The Festival of Lights is directly connected to a legend according to which farmers used to make sacrifices in order to get the last crop of the year before the winter approaching . Women used to go from the mountain to the village church for a thanksgiving service handling enlighted turnips ,giving light and warm and celebrating atmosphere to the little dark streets of the village .Many people from the whole country and many turists pop there to attend the parade , each year richer with trunip compositions as in the picture below !
La Rἅbechilbi est la fête qu'on célèbre à Richterswil , petit village sur le Lac de Zurich , chaque année depuis le 1922 , le 2ème Samedi de Novembre (cette année sera le 7) . Le Rἅbechilbi a pris son nom aprés le nom patois de RABEN qui n'est que le NAVET .
La Fête des Lumières prend ses origines dand la légende des farmiers et leur sacrifices pour avoir une dernière rècolte avant l'approche de l'Hiver . Les femmes partaient de la montagne avec les navets allumés pour arriver à l'église pour un service et remercier pour le récolte. Dans leur passage , les navets , faiblement éclairées , étaient allumées par les navets .
Un tas de monde attend cette fête et les gens viennent de toute part de la Suisse et un nombre de touristes étrangers aussi pour voir , chaque année, le différantes composition faitesavec les navet allumés .