L'avevo detto che per fare un cuscino completo, cioè veramente quadrato mi occorrev ala quarta stagione, l'Inverno. Ed ecco che Mimi89 ha pensato a questo. Si comincia Martedì 3 Novembre per 11 tappe, quindi finirà a Gennaio 2016 quando è pieno inverno e dopo circa un anno vedrò il mio cuscino FINITO!!!
Potete partecipare inviando un'email a Mimi89(*) oppure andando sul suo sito(*) (molto carino) nella categoria SAL HIVER 2015.
Pfìììuuuu! Fortunately Mimi89 decided to organize even the SAL WINTER , namely the 4th season , SO... I can complete my future 4-season cuchion! It'll start Tuesday Nov.3 and you can register at her site (*) or sending here an e-mail (*) .
The SAL will e divided in 11 steps , one per week . It's very nice, I think, and invite you to follow us!
Heureusement que Mimi89 a décidé de faire le SAL HIVER , c'est-à-dire la 4ème saison , de façon que moi je peux completer mon futur coussin !! Le SAL commencera Mardi 3 Novembre et sera em 11 étapes , une chaque Mardi. On va terminer donc en plein Hiver, Javier 2016 ! Je vous invite à visiter le blog de Mimi89(*) et si vous voulez participer lui envoyer une e-mail (*).
Très joli, eh? merci Mimi!!!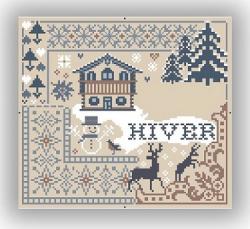 114 X 102 p.
20,7 X 18,5 cm → Aïda 5,5 15,83 X 14,16 cm → Aïda 7,2 22,8 X 2,4 cm → Lugana 10
I fili sono proposti in 7 colori DMC / Les fils sont proposés en 7 couleurs DMC /threads are proposed in 7 DC colors
- 931 (gris bleu) - 3752 (bleu porcelaine clair) - B5200 (blanc éclatant) - 840 (brun lièvre)
- 930 (gris ardoise) - 932 (bleu mouette) - 3799 (gris anthracite)
(*)mimi89gnb@oramge.fr e-mail
(*) www.flanerieaufildessaisons.eklablog.com Site Web