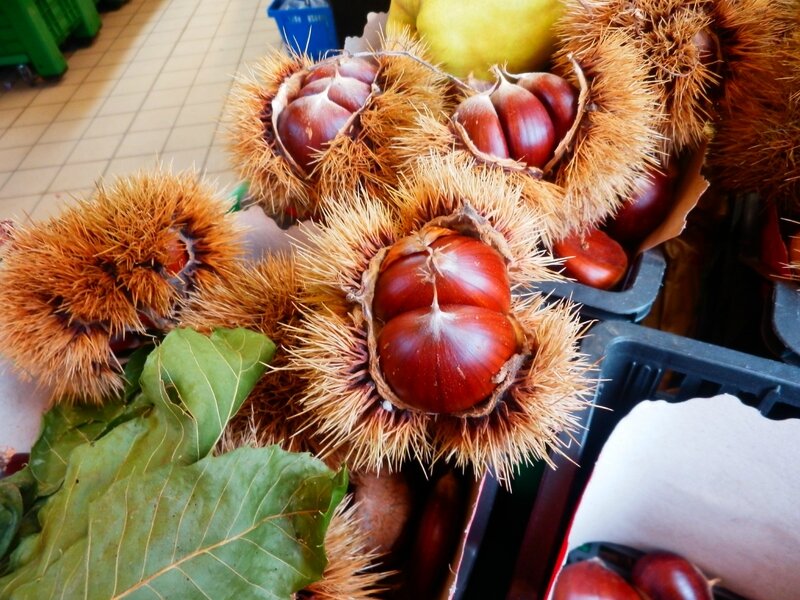 Eccole , sono arrivate ed anche molto belle!!! Si sente l' Autunno è arrivato. Nelle città qua e là i primi banchetti di "caldarroste" .Nelle giornate uggiose, con pioggerella , un filo di nebbia sottile e il primo freddo , il profumo delle castagne arrosto ... riscalda il cuore .
Vi ripropongo la ricetta della torta di Castagne, meglio nota in alcune regioni come "CASTAGNACCIO, PATTONA" , che avevo proposto nel mio blog precedente . E' un dolce che si prepara e si mangia da Novembre normalmente ma già sul mercato si può trovare la farina dolce di castagne . E' tradizionalmente preparata in Piemonte, Toscana, Emilia, Lombardia, Lazio e Liguria con qualche variazione nell' aggiunta di questo o quel ingrediente .
Here are so beautiful ! Fall has arrived and it's time for roasted chestnuts . In town , here and there, some little stands sell roasted chestnuts and that scent , in gloomy rainy and foggy days , can really warm up your heart! In the stores and market you can already find sweet chestnuts flour with which you can bake a great pie . The chestnuts pie is traditionally baked in some of the Italian regions as Piedmont, Liguria, Latium, Emilia and Tuscany and it's known with different names the most famous of which are : CASTAGNACCIO and PATTONA .the difference between this or that pie is determined by little ingredients .
Les voilà , les chataignes 2015 , si belles! L'Automne est vraiment arrivé et en ville ,il y a déjà quelques stands où on peut acheter les chataignes roties : Dans les jounées grises , de pluie et de brouillards, elles si fumantes et chaudes ont le pouvoir de réchauffer son coeur! C'est le temps pour achetre la farine douce de chataignes au marché et de faire un bon gâteau , le CASTAGNACCIO OU PATTONA , selon la règion . On la trouve cette tarte surtout en Piemont, Liguria, Emilia et Toscane avec de petites variations .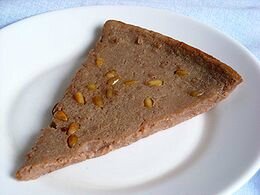 Esiste qualche piccola variazione fra una preparazione e l'altra come il rametti di rosmarino, la scorza di arancia , i semi di finocchio , frutta secca ma rimangono in linea di massima i prodotti di base, farina di castagne, pinoli e uvetta .
INGREDIENTI
- 300g DI FARINA DI CASTAGNE - 1/2 litro d'acqua - 2 cucchiai di olio extra vergine d'oliva - 1 pizzico di sale - 80g di uvetta - 50g di pinoli - 1 rametto di rosmarino
COME SI FA
1. Mettere l'uvetta a mollo in poca acqua tiepida . 2. Setacciate in una ciotola la farina di castagne . 3. Aggiungeteci 1 cucchiaio di olio e del sale (1 pizzico) . 4. Battete bene con una frusta e unite lentamente 1/2 lt d'acqua per ottenere una pastella piuttosto liquida . 5. Strizzate l'uvetta e incorporatela nell'impasto . 6. Ungete una teglia bassa e larga con un poco di olio, versarvi l'impasto a uno spessore di 2 cm circa ,cospragere di pinoli e di aghetti di rosmarino. 7. Bagnate con l'olio d'oliva rimanente e mettete in forno a circa 200°C per 1 ora ca. o per lo meno fino a quando in superficie si formerà una crosticina scura e consistente e si apriranno delle piccole crepe. Lasciare intiepidire prima di servire .
CHESTNUTS PIE
There is some little variations in the preparation of this pie as the use of rosemary or orange zest or fennel seeds, dried fruit but the main ingredients are always the same, namely chestnut flour, pine nuts and raisins.
INGREDIENTS

- 300g OF CHESTNUT FLOUR - 1/2 liter of water - 2 tablespoons extra virgin olive oil - 1 pinch of salt -80g raisins - 50g pine nuts - 1 sprig of rosemary
HOW TO DO
1. Put the raisins to soak in warm water. 2. Sift the flour of chestnuts into a bowl . 3. Add 1 tablespoon of olive oil and 1 pinch of salt. 4. Beat well with a whisk and add slowly 2.1 liters of water to obtain a fairly liquid batter. 5. Squeeze the raisins and stir the mixture . 6. Grease with a bit of olive oil a baking tin which must be low and wide , pour the dough to a thickness of 2 cm, sprinkle some pine nuts and the needles of rosemary. 7. Pour the remaining olive oil and bake at 200 ° C for about 1 hour or at least until the surface it will form a brown and consistent crust , and will open the small cracks. Cool it before serving.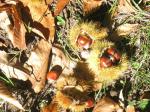 Il y a de petites variations parmi les préparations , comme utiliser des branches de romarin, le zeste d'orange, les graines de fenouil, de fruits secs, mais les produits de base, la farine de châtaigne, noix de pin et raisins secs restent .
INGRÉDIENTS

300 g de farine de châtaigne - 1/2 litre d'eau - 2 cuillères à soupe huile d'olive extra vierge - 1 pincée de sel - 80g de raisins secs - noix de pin 50g - 1 branche de romarin
IL FAUT FAIRE
1. Mettre les raisins secs à tremper dans l'eau tiède. 2. Tamiser la farine de châtaignes dans un bol 3. Ajouter dedans 1 cuillerée d'huile et 1 pincée de sel. 4. Remuer bien et ajouter lentement 2,1 litres d'eau pour obtenir une pâte plutot liquide. 5. Presser les raisins secs et remuer le mélange . 6. Graisser une plaque à four basse et large avec un peu d'huile , verser la pâte sur une épaisseur de 2 cm, les noix de pin et saupoudrer avec les aiguilles de romarin. 7. Verser l'huile d'olive restante et cuire au four à 200 ° C pendant 1 heure environ ou au moins jusqu'à la surface, il y aura une croûte brune et de petites fissures s'ouvreront . Laisser refroidir avant de servir.
Au lieu des raisins on peu ajouter le zeste d'un orange ou bien des graines de fenouil ou encore des amandes ecrasées.