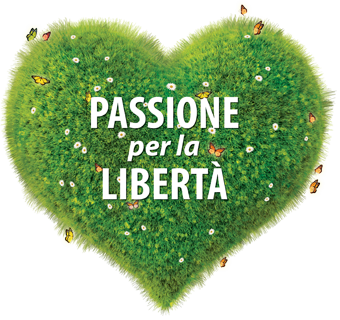 (PASSION POUR LA LIBERTE' - PASSION FOR FREEDOM)
Credo sia esattamente il concetto che predomina nella testa di una moltitudine di persone che amano la vita in massima libertà, quindi su camper e caravan .Domenica 13 settembre , malgrado la pioggia, siamo andati a vedere il Salone del Camper che è considerato da molti il primo salone del settore in Europa . Non avevamo nessuna intenzione di comperare un camper ma guardare, curiosare e stupirsi della tecnica e professionalità di certi costruttori è quasi un dovere!
E così abbaimo visto cose fantastiche, vere case su 4 ruote ! tutte equipaggiate per farti sentire, a 10.000 km di distanza , come a casa tua... incredibile !
Quindi ecco un paio di foto per farvi vedere l'ingegno e la professionalità in questo settore ..
Passion for freedom , yes I really think that this is the concept predominating in a multitude of people ,the spirit of freedom, therefore travelling on motorhomes and caravans .Last Sunday , Sept. 13 despite the rain, we went to see the Salone del Camper , the 6th edition of the international fair of motorhomes and caravans at the Parma Fair center.
This is considered to be the second best European exhibition in this sector after the in Dusseldorf,Germany . We had no intention of buying a caravan , of course, but look around and appreciate the technology , professional skills and talent of many manufacturers of the sector and just remain speechless !. So we saw amazing products: real houses on four wheels and all equipped to make you feel, 10.000 km away, at home ... unbelievable
So here are a few pictures for you to see and appreciate .
Passion pour la liberté, oui, je pense qu'il est le concept prédominant dans une multitude de personnes, l'esprit de liberté, qui préfèrent voyager sur les camping-cars et caravanes .Le dimanche passé , 13 Sept. malgré la pluie, nous sommes allés voir le Salone del Camper, la 6ème édition de la foire internationale de camping-cars et de caravanes au centre Foires de Parme .

Ceci est considéré comme la 2ème plus importante exposition européenne dans ce secteur après Dusseldorf,Allemagne . Nous avions pas l'intention d'acheter une caravane bien sûr, mais toutefois regarder et apprécier la technologie, les compétences professionnelles et le talent de nombreux fabricants du secteur et nous étions étonnés!!. Alors, nous avons pu voir des produits formidables : de vraies maisons sur les quatre pneus ,équipées pour vous faire sentir, à 10.000 kilomètres de chez soi, à la maison ... incroyable..
Alors, voici quelques photos pour voir et apprécier.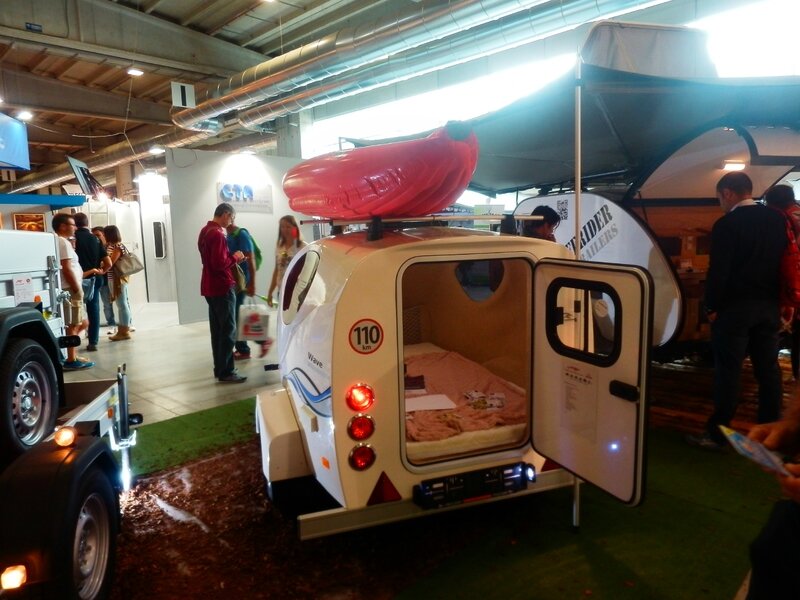 Mini camper pour de jeunes gens: lit dans le van et la canoe sur le toit: quoi d'autre? - Mini camper for a couple of freinds canoeing : bed inside the van , canoe on top of the roof: what else?
Per una coppia in fuga! sopra il tetto, la camera da letto, dietro la cucina per un pasto frugale! Nice idea for a loving couple , on the car roof the sleeping room , on the back side of the mini-campaer , the kitchen for a quick loving meal!! Jolie idèe pour une couple : sur le toit , la chambre à coucher et sur le retro du mini-camper la cuisine ..en bois !
Solitamente è un camper "normale" ma qui è adibito a servizio ristorazione ! usually it is a camper .. this is the on-going restaurant .. people inside are cutting ham and serving sandwishes!! Normalement il s'agit d'un camper , mais voilà qu'ici on l'a utilisé comme resto et la vente de petis pains au jambon de Parme!!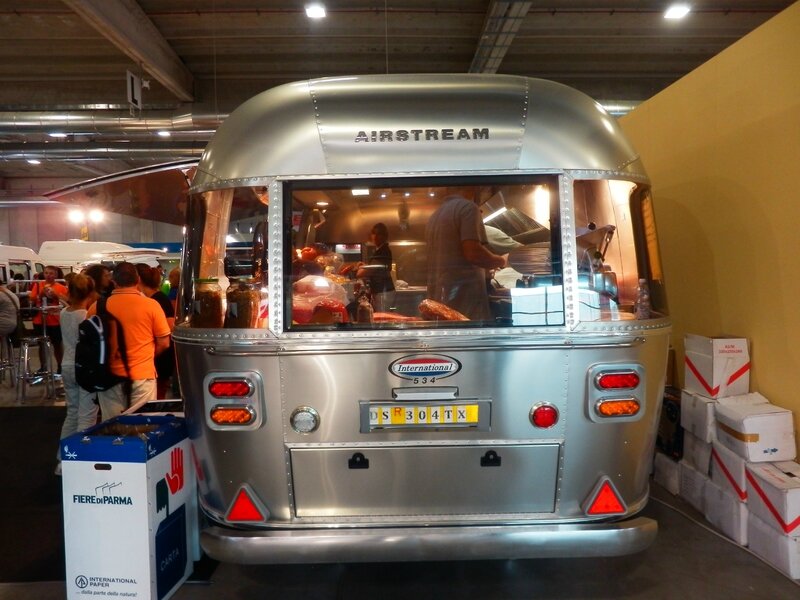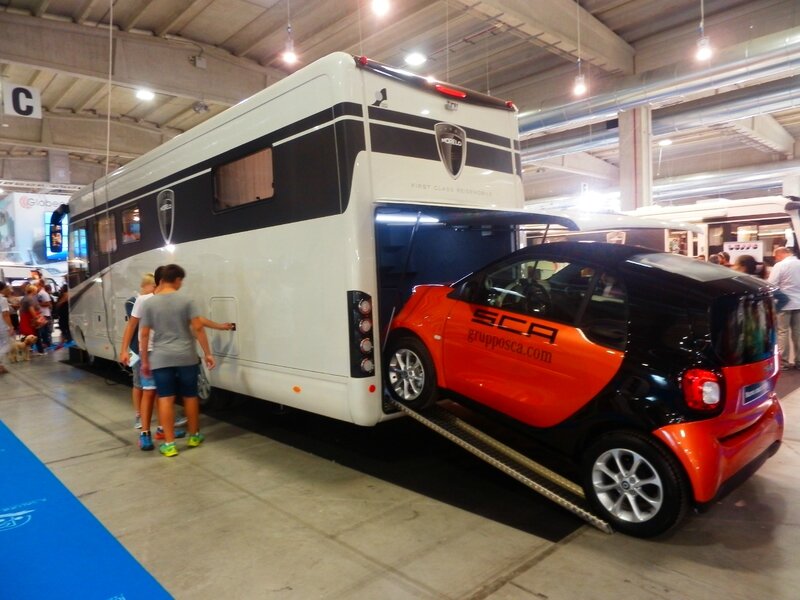 Se avete almeno 300,000 euro e volete veramente girare il mondo anche aiutandovi con la vostr mini auto, ecco la soluzione (Morelo) : assolutamente fantastica !! L'interno è come un appartamento per 4 persone tutto molto bene equipaggiato.. Se avessi quei soldi, sì un pensiero ce lo farei!
If you have at least 300,000 euros and you really want to travel worldwide , supported also by your mini car, well this is a fantastic solution by MORELO !
the interiors are super finely equipped as in a lux 4-people flat with ALL comforts . Yes, if I had all that money, I could start planning something !!
Si vous avez au moins 300,000 euros , voilà celle -ci est la solution idéale pour voyager dans le monde , pendant des mois, avec tout le comfort et vous serez aussi aidès par votre petite voiture ! le camper est parfaitement equipé avec tous les comforts et comme un apartement pour 4 personnes . Oui si j'aurais cet argent , j'y ferais une petite pensée ..