Per evitare di farlo cadere più volte in un giorno di dimenticarlo da qualche parte, ho deciso di creare un portacellulare ... da collo
Ho pensato che in inverno valeva la pena farlo con materiale "caldo" ed, escludendo la lana , il feltro/pannolenci era una cosa simpatica .
Ho preso lo spunto da uno dei miei libri di lavori in feltro ed ecco il risultato , due graziosi portacellulare per me e per Giorgio, ricamati a mano.
To avoid losing or letting it fallon the ground or forgetting it somewhere , I decided to handcraft (embroidering )a cellphone holder to hang on both neck, Giorgio's and mine..
Chosing between winter fabric materials and excluding wool , I decided for FELT . In spring-Summer I'll probably make it in cotton fabric .
I took the idea from one of my felt books and this is the result .
Pour éviter de le perdre ou de le voir tomber par terre ou bien de l'oublier quelque part, j'ai décidé de créer un porte-cellulaire pour
le mien et celui à Giorgio. Puisqu'on est en hiver , j'ai choisi la Feutrine au lieu de la laine ...probablement en Printemps-Eté je choisirai du tissu en coton imprimé .
J'ai pris l'idée d'un de mes livres de petites folies en feutrine et.. voilà donc le résultat de mes folies brodées....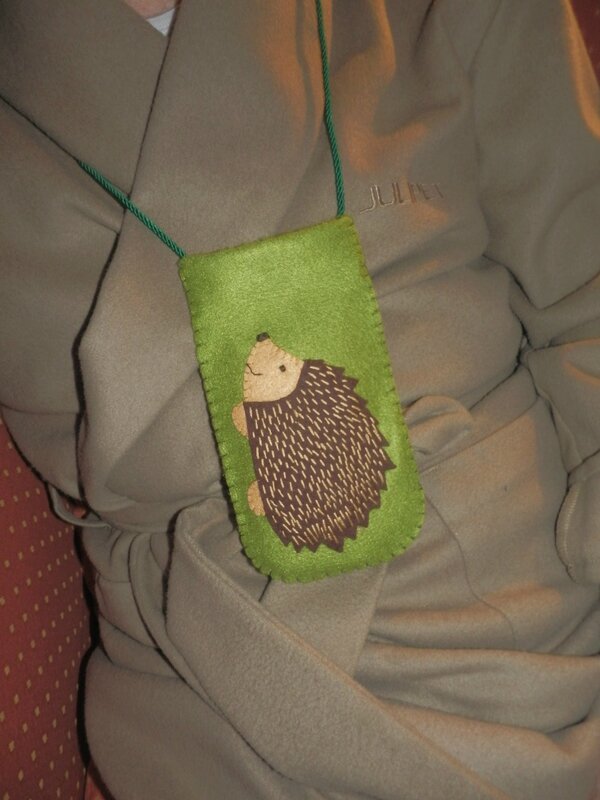 Portacellulare (o occhiali) di Giorgio- Giorgio's cell ph. or glasses holder- Giorgio et son porte cellulaire ou lunettes
Portacellulare di Gloria- Gloria's cell ph.holder- Le porte-cellulaire de Gloria