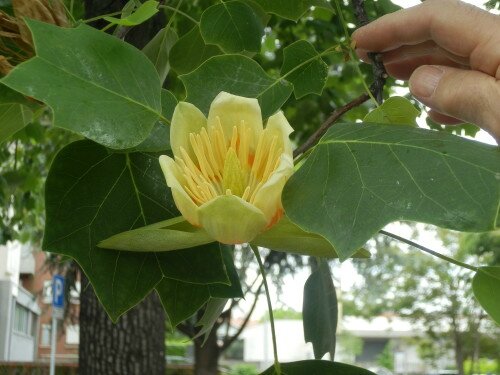 Il Liriodendrum tulipifera che ho visto in fiore per la prima volta nella mia vita in città, è meglio noto come "Albero dei tulipani" (dalla denominazione francese Tulipier de Virginie) appartiene alla Famiglia delle MAGNOLIACEAE. Il portamento è un pò " a colonna" ma è anche molto ramificato arrivando ad un'altezza anche di 20-30 metri.. Ha un fascino articolare , a cominciare dalle foglie a forma di tulipano allungato, lobate ai fiori di forma identica ai tulipani di colorazioni sfumate dei gialli , degli aranci e dei verdi. Spesso e volentieri si trova anche da sola , in qualche giardino o viale(come nella foto) perchè non ha bisogno di essere accompagnata da altre piante della stessa specie o di altre.Non teme il freddo ma all'uimdità , sì, perchè fonte primaria di elementi funghici .
Ama i terreni acidi, freschi e profondi e ha una buona resistenza a climi inquinati con una discreta capacità a pulire l'aria delle città... ecco perchè era su un viale rafficato di Parma!!
I have seen this flower for the first time some months ago in town ! The Liriodendrum tulipifera is better known as "Tulip Tree" (from its French name, Tulipier de Virginie) and belongs to the family of MAGNOLIACEAE. The trunks is columnar but it is rich in slender branches while reaching 20-30 m high.. It is somehow fascinating with its lobed large leaves and lobed tulip-shaped flowers in faded yellows, oranges and greens colour . You often can see one all alone , in a garden or in a boulevard(as in photo) cause it does not need to be accompanied by other plants of the same species or others .The propagation is mostly by seeds .The plant doesn't like humidity but rather temperate climate and preferably the acidic soils, fresh and deep and has a good resistance to pollution and it's good to clean the air of a city ...
J'ai vu cette fleur pour la première fois il ya quelques mois en ville! La Liriodendrum tulipifera est mieux connue comme "Arbre tulipe" (de son nom français, Tulipier de Virginie) et appartient à la famille des MAGNOLIACEAE. Le tronc est fait à colonne, riche en branches minces et rejoint une heuteur de 20-30 m .. Il est en quelque sorte fascinante avec ses grandes feuilles lobées et les fleurs en forme de tulipe en nuances de jaunes ,d' oranges et des verts . Vous pouvez souvent en voir un tout seul, dans un jardin ou sur un boulevard (comme en photo) , cela parce qu' il n'a pas besoin d'être accompagné par d'autres plantes de la même espèce ou d'autres .La propagation se fait principalement par graines .Le plante n'aime pas l'humidité, mais plutôt le climat tempéré et de préférence les sols acides, frais et profonds et a une bonne résistance à la pollution ...