Malgrado la stagione non troppo asciutta e soleggiata (ma è estate, questa??) sono riuscita a mangiare molti dei pomodori che abbiamo piantato quest'anno nel nostro orto . Oltre cento piante con varietà diverse (Canestrino, Cuore di bue, Costoluto , Rosso di Albenga , Nero di Crimea, Pomodoro Roma ecc..) che tuttavia hanno potuto godere poco del sole caldo per crescere . Molti frutti sono marciti sotto le valanghe d'acqua e quindi raccolto dimezzato .Tuttavia ecco alcuni degli esemplari più belli raccolti di recente , fra questi anche il NERO DI CRIMEA una specie nuova (alemno per me) , un pomodoro non troppo dolce e squisito con pochissimi semi e molti minerali .. da provare!
In spite of the season not too dry and sunny (is this a summer??) we managed to eat many tomatoes from the over 100 tomato plants we placed in our orchard. At least 8 different varieties which could unfortunately get very little sun beacuse of the great mass of rain fallen . We got half of the quantity of fruits expected but still those we had were just great! Here are some pictures of some of our tomatoes , amongst which the well-known BLACK KRIM Tomatoes , very dark half-hardy tomatoes originated the isle of Krim (Crimea) . Very particular tomato, almost seedless, not too sweet but with softly tasted and rich in minerals.
Malgré la saison pas trop seche et ensoleillée(est-ce qu'on peut encore parler d'été??) nous avons pu manger beaucoup de tomates que nous avons planté en Avril . Plus de 100 plantes de 8 différantes varietés qui n'ont pas vu un tas de soleil au contraire UN TAS de pluie et de vent .En tout cas je vous montre quelques photos de nos tomates , parmi lesquels le Noir de Krim aussi, connu comme le noir de Crimée , une tomate assez grande , de coueleur sombre , sans acidité et presque san pépins ... à essayer!!
Nero di Crimea- Black Krim - Noire de Crimée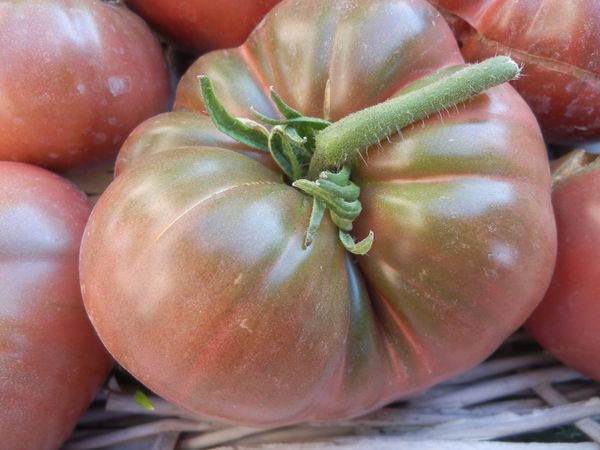 Pomodori neri di Crimea (diverse varietà) - Black Krim tomatoes (different varieties) - Tomates noires de Crimée (différantes varietés)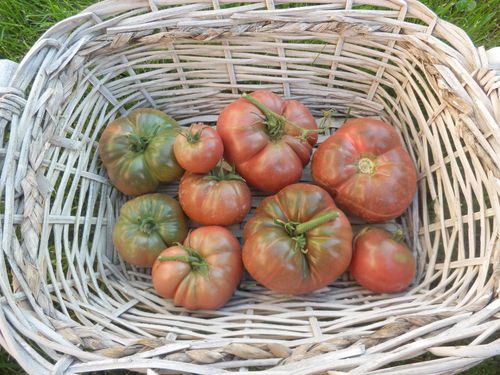 Pomodori ROSSI - Red Toamatoes - Tomates rouges