AUVERGNE , France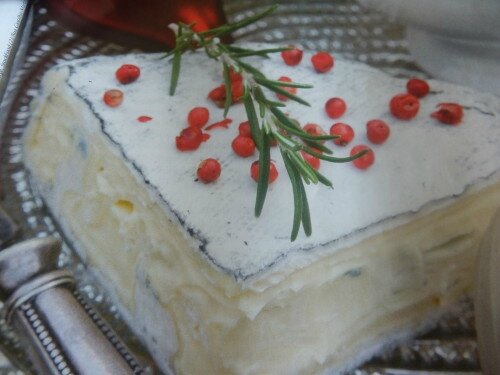 Ho scoperto questo formaggio francese tempo fa , l'ho assaggiato e mi è piaciuto molto.
Il Montbriac o Rochebaron è un formaggio erborinato a pasta morbida e cremosa, leggermente dolce, , color bianco avorio la cui consistenza è fra un formaggio brie ed un blue .
La pasta presenta piccolissime venature verdi e blu dovute essenzialmente alla proliferazione di uffe nobili , naturale conseguenza della crosta del formaggio interamente coperta - durante al stagionatura (di 40 giorni)- da carbone vergetale che la rendre grigio-blu .Il Montbriac è costituito interamente di latte vaccino intero pastorizzato e dovrebbe essere sempre gustato temperatura ambiente . Presentato con bacche di pepe rosso sopra e qualche rametto di rosmarino fa molto ... atmosfera , specie durante le feste di Natale!
*******
I discovered some time ago this French cheese , I tasted and I found it super! Montbriabc or Rochebaron is an excellent blue cheese originated from the French region of Auvergne with a soft and creamy texture and slightly sweet .The pâte has got tiny blue and green veins mainly due to the proliferation of noble rot, a natural consequence of the cheese rind completely covered - during its 40 days seasoning - by gray.blue charcoal ash .
Montbriac is entirely produced with pasteurized whole milk and should always be served and eaten at room temperature. If served with some red pepper berries on top and a few branches of resemary .. it can also create a warm atmosphere on your table , especially during Christmas time!!
*******
J'ai decouvert ce fromage Français il y a quelque temps et je dois dire que je l'ai trouvé très gourmand!!
Le Montbriac ou Rochebaron est un fromage blue à pâte très crémeuse et douce et légèrment sucrée, blanche ivoire dont la consistence est entre le blue et le brie.La pâte a de petites veines blues et vertes ,principalement en raison de la prolifération de pourriture noble , une conséquence naturelle de la croute du fromage entièrement couverte - au cours de sa maturation (40 jours environ) - par la cendre du charbon de bois gris.blue utilisé. Le Montbrianc est entièrement produit avec du lait de vache entier pasteurisé . On suggère de le manger toujours à tempétaure ambiante. Il est pricincipalement produit dans la région de l'Auvergne et une fois présenté couvert par de baies de poivron rouge et quelques brins de romarin dessus, il donnera à votre table sans doute encore plus d'atmosphère douce et pleine de chaleur , surtout s'il s'agit de la table de NOEL!!