Finita la Pasqua , uova, conigli & Co. tornano in soffitta per un altro anno
Easter is over and eggs, bunnies & Co. must be stored again for next year..
Les fete de Paques sont passées et donc tous les oeufs, les lapins et les décorations retournent
dans le grenier pour l'année prochaine..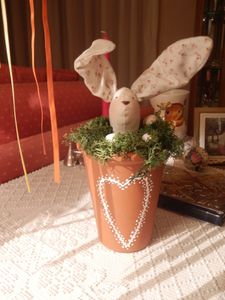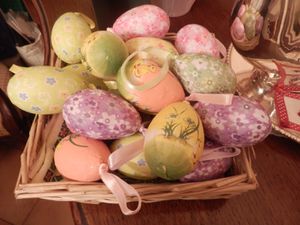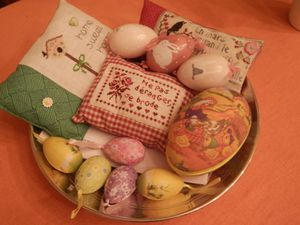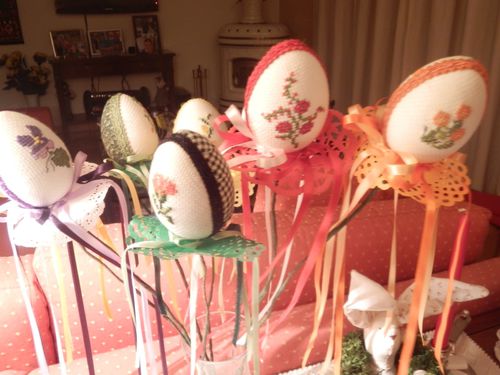 Ma ancora non ho voglia di chiudere in una scatola il mio Sampler di Pasqua ...
Vi faccio notare che nello schema originale di Gazette94 non era riportata la lettera Q (e me ne sono accorta a ricamo montato!!) , ho pensato di fare una sorta di "Addendum" posteriore . Infatti girando il quadretto , ecco la lettera Q!!!
Mi piace troppo!!
But I don't feel to place in a box my Easter Sampler , it's too nice and I want to show it to you
This is my Easter Sampler but as you can remark the letter Q is missing ...since it was missing also in the original pattern (pattern from Gazette94) . I realized this only when the work was finished , I decided therefore to stitch a sort of "extra stitching note" , a xstitched letter on the backside of the panel... turn it and see .. the letter Q !!
Mais je n'ai pas d'envie de mettre dans la boite mon Sampler de Paques avant de le vous montrer .
Comme vous voyez il manque de la lettre Q et je me suis réalizée de cela seulement aprés l'avoir finitionné ! Mais en même temps j'ai aussi vû que dans la copie originelle (grille de Gazette94) la Q manquait aussi! j'ai donc dèéidé de resoudre le problème avec une broderie extra en ajoutant un tit carré au point de croix avec la lettre Q ...tournez le sapler et... voilà!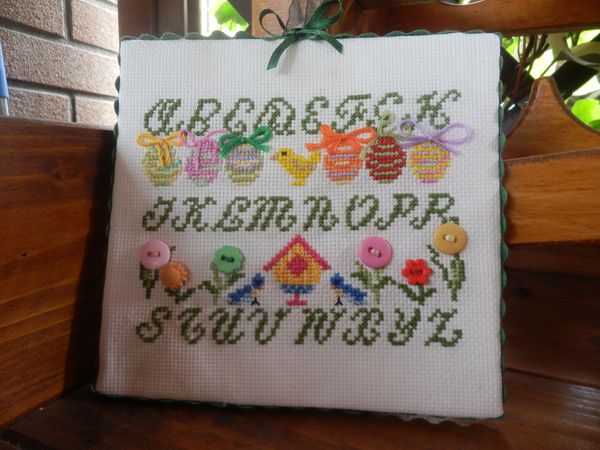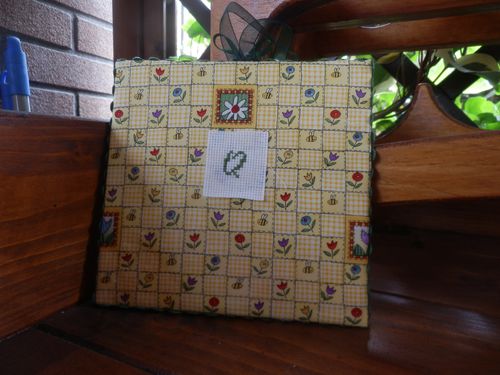 Schema originale - Original pattern- Grille originelle