Scambio sul tema VICHY , lo scambio di Marzo 2014 organizzato da Manou60 .
Sapete benissimo cosa intendo per Vichy nel settore hobbistica , va a dire il COTONE A QUADRETTI ,
di più o meno piccole dimensioni.
Lo scambio prevedeva infatti l'invio di 1 pezzo di tessuto Vichy di qualsiasi colore, acui abbinare un altra cosa (nastro, bottoni, fiocchi, ecc) sempre Vichynon necessariamente uguali al tessuto ed eventualmente un terzo oggetto a scelta .
La mia abbinata era Jeanine71 ed ecco il bello scambio cha abbiamo avto.
March 2014 exchange organized by Manou60 ,subject : VICHY , namely swapping
"Gingham" fabric and items connected to gingham style.
It was asked to send a piece of gingam fabric ,plus another item on the same subject (Gigham ribbon, or buttons or trimming , etc..) and , if desired, a third item not necessarily connected to the main subject . This is the exchange I made with Jeanine71 of France.
Voilà l'échange de Mars 2014 organisé par Manu60 dont le sujet était "VICHY" .
Il fallait emvoyer à sa binôme 1 coupon de tissu Vichy ,
1 petite chose même style (ruban, boutons, flocon, etc..) et à choix , une 3eme chose .
Avec Jeanine71 on a fait cet échange très bien réussi!!!
MERCI BEAUCOUP, JEANINE!!! ET GROS MERCI A' MANOU60 QUI A ORGANISE' TOUT CELA!!!
Jeanine → Gloria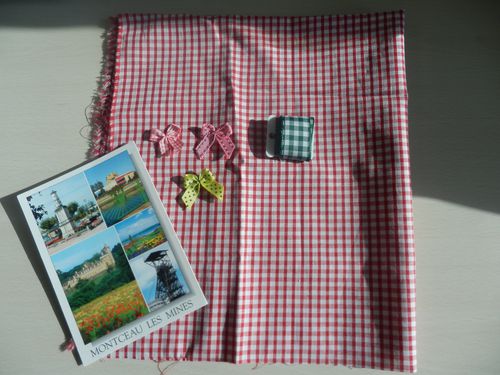 Gloria → Jeanine