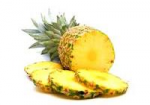 Ogni tanto mi piace suggerire qualche ricetta che trovata e provata ritengo sia giusto farla conoscere .
Se poi ho anche un attrezzo nuovo e particolare che mi aiuta a procedere più speditamente , molto meglio!
Eccovi quindi la MOUSSE D'ANANAS e sotto l'attrezzo UTILISSIMO non solo per questa ricetta ma per tutte le volte che dovete mettere mano ad un ananas , ricavandone la polpa perfettamente pulita , affettata e senza sporcare in giro
MOUSSE DI ANANAS
Ingredienti per 6 pax : 1 ananas - 3 uova intere- 100g zucchero - 50g di farina
Procedimento
Pelare l'ananas senza lasciare tracce della buccia (l'attrezzo sotto è perfetto!)
Tagliare la polpa a pezzetti e passarla in un mixer ottenendo una purea .
In una ciotola separare i tuorli dagli albumi , mentre in un'altra ciotola unire i tuorli allo zucchero
ed alla farina. Mescolare bene , infine incorporare anche la purea di ananas.
Mettere tutto il composto in una casseruola a fuoco moderato e mescolare fino a che non vedete le prime bolle di ebollizione . Ritirare quindi la mousse dal fornello e lascaitela raffreddare .
Nel frattempo, montare a neve gli albumi ai quali incorporerete la crema di anana sraffreddata . Mettere tutto in una ciotola e lasciare raffreddare in frigo per almeno 3 ore. Servire fredda .
Suggerisco: accompagna benissimo una torta asciutta , tipo margherita ma non alla frutta , oppure dei biscotti secchi
Sometimes I like to propose little easy and tasteful recipes that I find in magazines & books , I try them and then decide to post here cause they deserve to be known by others . This is the case of a MOUSSE OF PINEAPPLE (Mousse(foam) = prepared food which can be fluffy and light or creamy and thick)-
I am glad to have tried this recipe cause I had a further chance to test my quite new kitche tool just for cutting (slicing) pineapples . It's very easy to use, you get full pulp in slices and you do not have to wash the entire kitchen after the operation!!. Below you can see the picture .
PINEAPPLE MOUSSE
Ingredients for 6 people : 1 pineapple - 3 eggs - 100g sugar - 50g flour
How to :
Peel the pineapple (the tool below is VERY useful here!) , removing all traces of the peel.
Dice the pulp and put in a mixer until you get a purea /cream .
Then separate the yolks fron the whites . Inside a bowl, pour the egg yolks , sugare and flour
all together and stir well.
Incorporate the pineapple purea in . Pour the mixture in asaucepan and leave the cream over moderate heat , stirring well and until you see the first signs of boiling . Withdraw the saucepan from the fire . Leave it resting and getting cool . Meanwhile whisk the whites and stir in the pineapple cream . Pour the hole in a bowl, place in the refrigerator for at least 3 hours and serve coold.
I suggest : the cream is excellent to be served with dried cakes (no fruits or cream cakes) or with dried biscuits .
Parfois j'aime proposer de petites recettes , assez faciles à réalizer , que je lis dans les magazins ou les livres .J'ai trouvé et essayé cette recette , la MOUSSE D'ANANAS , très bonne . Une recette qui m'a donné la chance d'utiliser encore une fois l'utensile de cuisine pour couper l'ananas en tranches , sans salir toute la cuisine ! En bas le truc que j'avais acheté et que j'utilise regulièrement une fois par semaine (j'adore l'ananas!)
MOUSSE D'ANANAS
Ingrédients pour 6 personnes : 1 ananas - 3 oeufs - 100g de sucre - 50g farine
Procédure
péler l'ananas (l'utensile en bas est supe utile ici!!) en retirant toute trace de la peau . Couper la pulpe en morceaux et la paaser dans un mixer jusq'à obtenir une purée.
Séparer les jaunes des blancs . Dans un bol verser les jaunes d'oeufs , le sucre et la farine . Incorporer la purée d'ananas .
Mettre la crème obtenue dans une casserole et laisser le mèlange à feu moyen , en remouant , jusq'à quand il y a les premiers signes d'ébullition .
Rétirer donc la mousse du feu et la laisser refroidir . Battre les blancs et les ajouter
à la crème d'ananas . Mettre tout dans un bol et laisser reposer au réfrigérateur pour au moins 3 heures . Svire froide .
Je suggère de srevir la mousse avec des gateaux "secs" , pas des gateaux à la fruits ou bien avec d'autres crèmes ou bien servir avec des biscuits secs .