Dovrei forse parlare più di Appliqué misto a Patchwork e Ricamo , visto che le tecniche sono
tutte considerate in questo lavoro che mi sono finalmente decisa ad iniziare ed anche se l'inverno ha tempi ormai brevi(...ma non si sa mai!)
Vi ricordate il Kit Poblet de L'Agulla Labors preso a Vicenza l'autunno scorso ? Eccolo spuntare fuori con le sue casette , comignoli fiumanti , stelle e neve.
Perhaps you remember the kit Poblet by L'Agulla labors which I bought last Fall at the fair of Vicenza ?
It's a sort of mixture in which at least 3 techniques are considered: Patchwork, Appliqué and Embroidery without considering sewing. and even if Winter is almost over( but I woulodn't be so sure!) I decided to take out
the work and start cutting houses, roofs, chimneys ,..
Il vous souvient probablement du kit Poblet de L'Agulla labors que j'ai acheté
à la foire de Vicence l'Automne passé .. Eh bien j'ai décidé de commencer à le réalizer, peu à peu
en coupant les maisons , fenêtres, portes, cheminées... Meme si l'Hiver va bientôt partir (mais je ne serais pas si sure!!) , je vais quand même rèalizer ce paysage si joliment enneigé!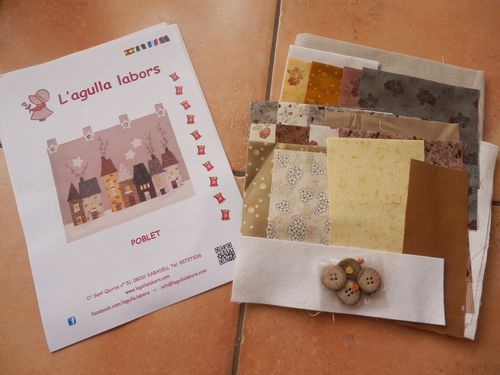 primi passi e prime case... first steps and first houses.. premiers pas et premières maisons..
1.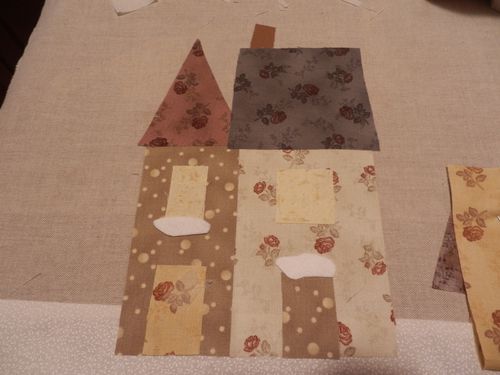 2.