Bellissima pianta della Famiglia delle BROMELLIACEAE , una specie di 500 piante diverse!, terrestri , perenni, sempreverdi, delicate diffuse soprattutto nelle regioni subtropicalio tropicali dell'America settentrionale e meridionale . Quella in foto è la Tillandsia cyanea , proveniente dall'Ecuador , ha un'altezza massima di 20-25 cm ed è una specie epifita (epifita è una pianta che cresce su un'altra utilizzandola come supporto)con foglie senza spine , lunghe , sottili e verde scuro. L'infiorescenza a foma ellittica da cui partono bratte asimmetriche da cui escono i "veri" fiori blu-viola della pianta che vedete in foto e che cornonano l'inflorescenza da entrambi i lati .
Le annaffiature sono giornaliere durante il periodo estivo e comunque avere sempre umidità e diminuiscono durante l'autunno-inverno. In questo periodo la pianta deve rimanere ad una temperatura di 12-15°C almeno . La pianta non ama troppo il sole diretto estivo.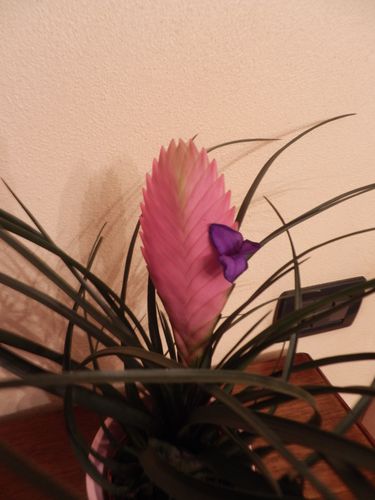 Beautiful plant of the Family of the Bromeliaceae, a specie of 500 different plants! terrestrial, perennial, evergreen, delicate, particularly common in tropical or subtropical regions of North and South America. The one in the picture which I bought for home is T.Cyanea and is native of Ecuador . It reaches a mx height of 20-25 cm and is a epiphytic species ( namely epiphyte is a plant which grows on another using it as support), with spineless, long thin , dark green leaves . The inflorescence has got an elliptical shape with asymmetric bracts from which come out the "true" flowers of the plant , tiny blu-violet flowers covering all sides of the inflorescence .
Daily watering is recommended in summer time and, in any case , much humidity is requested by the plant , while in Fall-winter waterings should be limited mantaining an essential moist level. in winter time the plant shouldn't stay in areas where the temperature is below 12-15°C while in summer time the plant doesn't like much a full sun exposure
Une très belle plante de la Famille des Bromeliaceae , une espèce de 500 plantes différentes ! Terrestre , vivace , à feuilles persistantes , délicate , particulièrement fréquente dans les régions tropicales ou subtropicales de l'Amérique du Nord et du Sud. L'exemplaire en photo est celui que j'ai acheté pour chez moi et elle est la T.Cyanea originaire de l'Équateur . Cette plante peut arriver à une hauteur de 20-25 cm max et il s'agit d'une espèce épiphyte ( à savoir épiphyte signifie qu' une plante pousse sur l'autre en l'utilisant comme support), sans épines , et dont les feuilles sont longues et fines ,vert foncé . L'inflorescence a une forme elliptique avec des bractées asymétriques de lesquelles sortent les "vrais" fleurs de la plante , bleu -violet et minuscules couvrantes tous les côtés de l'inflorescence . Arrosage quotidien en été et , en tout cas , beaucoup d'humidité autoru de la plante , tandis que dans les en automne - hiver on devrait limiter les arrosages mais mantenir un niveau d'humidité essentiel . En hiver la plante ne doit pas rester dans les zones où la température est en dessous de 12-15 ° C, tandis que dans en Eté la plante n'aime pas beaucoup une exposition en plein soleil.