(Magnolia liliiflora)
Lo splendore delle Magnolie in fiore! una specie di piante, la MAGNOLIA, che appartiene alla Famiglia delle Magnoliaceae a cui fanno riferimento circa 80 varietà arboree ed arbustive fiorifere , rustiche e ornamentali . Il nome Magnolia è stato dato in onore di Pierre Magnol un botanico francese della 2a metà del 1600 , direttore del giardino botanico di Montpellier che introdusse per la prima volta questa pianta e nel contempo iniziò il principio della classificazione delle piante per "Famiglia" .
L'orgine è delle regioni del sud degli USA , del Giappone, della Cina e della Corea .
I fiori sono molto appariscenti, i colori sono diversi e profumati. Le foglie sono ovali , sempreverdi . Normalmente fiorisce in primavera e teme le gelate di tarda stagione . Nell foto una delle varietà più comuni , Magnolia Soulangeana con fiori bianchi a sfumature rosa che sbocciano in aprile ., poi la più comune (viali di città) la Magnolia Grandiflora sempreverde con foglie verde scuro lucide e ovali e grandi fiori bianchi profumati che fiorisce in estate . anche abbastanza comune la Magnolia Sieboldii con fiori penduli di colore bianco con fioritura a maggio e la Magnolia Stellata , con foglie decidue e fiori bianchi profumati a forma di stella che fioriscono in marzo prima che spuntino le foglie.
Per chi la vuole coltivare in giardino è una pianta che sta al sole o a mezzo sole ma che soffre il vento forte .
La moltiplicazione avviene per TALEA di legno semimaturo in estate oppure per SEME in autunno.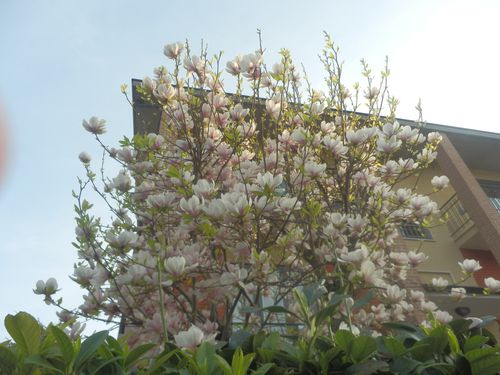 ( Magnolia soulangeana )
Wonderful Magnolia flowering around! Magnolia is a genius of 80 species of very decorative evergreen plants and shrubs which belongs to the Family of Magnoliaceae. The name comes after Pierre Magnol a botanic expert and director of the Botanic Garden of Montpellier, France who in 1600 who first classified plants and shrubs in "Families" . The origins are various, from the southern regions of USA , from Japan, from China, from Korea . The flowers are very decorative , in different colors and fragrant . The leaves are oval, evergreen . Usually Magnolia flowers in Spring time and fears the last frost of season .
In my photos the MAGNOLIA SOULANGEANA with white flowers and pink nuances . The flowers come out in April . the most common Magnolia tree foudn along the boulevards or in the garden is MAGNOLIA GRANDIFLORA having big white fragrant flowers (flowering in Sumer) with large shiny oval dark green leaves . there are other two well known types . Magnolia Sieboldii with pendoulous white flowers and Starring Magnolia, with decisous leaves and white star-shaped white flowers .
To grow up this plant in a garden , Magnolia needs sun or semi-shadow, regular waterings in summer time and to be repaired from strong winds. it can be multiplied by wood cuttings in Summer and by Seed in Automn.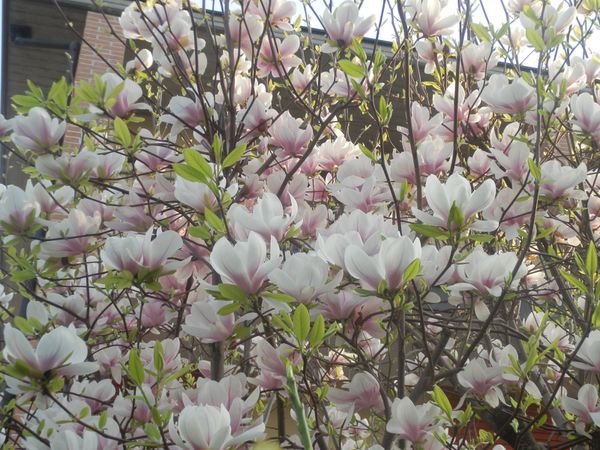 C'est magnifique voir les premières plantes de Magnolia en fleurs autour ! La Magnolia est un génie de 80 espèces de plantes à feuillage persistant très décoratif et des arbustes qui appartient à la famille des Magnoliaceae.
Le nom vient après Pierre Magnol ,un expert botanique et directeur du Jardin botanique de Montpellier qui, en 1600, fut le premier à créer le système de classification des plantes en "Famille" .
Les origines de cette plante sont diverses: de les régions du sud des États-Unis, du Japon, de la Chine, de la Corée. Les fleurs sont très décoratives en différentes couleurs et parfumées. Les feuilles sont ovales, à feuilles persistantes. Habituellement les fleurs de Magnolia sortent en Printemps . Ces plantes souffrent la dernière gelée de saison .
Dans mes photos la Magnolia SOULANGEANA avec les fleurs blanches et les nuances roses. Les fleurs sortent en Avril. La Magnolia la plus commune et qu'on voit le long des boulevards ou dans les jardins est la Magnolia Grandiflora ayant de grandes fleurs blanches parfumées (floraison en Sumer) avec de grandes feuilles ovales vert foncé brillant. Il existe deux autres types bien connus. La Magnolia Sieboldii ,fleurs blanches et pendoulous et la Magnolia Etoiles, avec des feuilles blanches et de fleurs blanches en forme d'étoile.
Pour grandir cette plante dans un jardin, la Magnolia a besoin de soleil ou semi-ombre, arrosages réguliers en période estivale et à réparer des vents forts. Elle peut etre peut être multipliée par bouturage de bois en été et par semences en automne.