E' proprio vero che le prime piogge invogliano a fare (e finire) dei lavoretti
Dopo il felice ingresso in casa della nuova macchina da cucire Shiloh , ecco che la lavanda nuova di quest'anno comincia ad essere collocata . In un improvviso raptus , eccomi a cucire i sacchettini portalavanda : negli armadi è una vera delizia sentirne il profumo fra le lenzuola, gli asciugamani,.. E dunque ecco la prima "sfornata" di sacchettini "
It's true : when the weather isn't good and we have to stay home , we are more stimulated to do (and to finish) some little works of embroidery, hand-crafting, sewing and so on.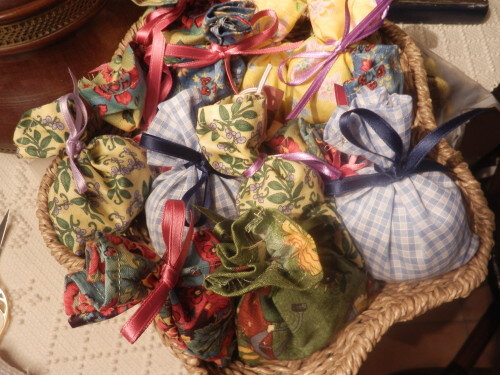 Le mauvais temps, surtout la pluie qui nous oblige à rester à la
After the happy entry of the new sewing machine , called Shiloh, at home I was taken by a strong desire to use it and at the same time placing the new 2012 lanvander of our garden in small fabric bags to parfum gardrobes, drawers,.. So these are the first bags I have sewed and closed with silk ribbons mainly.
Le mauvais temps, surtout la pluie qui nous oblige à rester à la maison à... faire (ou bien finir) de petits travaux de broderie, couture, bricolage, etc..
Après l'arrivée de la nouvelle machine à coudre , j'ai étè pris par un raptus et j'ai cousu les premiers sachets remplis avec la nouvelle lavande du 2012 de notre jardin. C'est toujours très bon ouvrir les armoires et sentir le parfum délicat de lavande parmi les draps, les essuies-mains, et aussi mes chemises et la lingerie!!