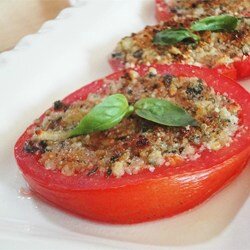 Una ricetta semplice, gustosa , adatta all'estate ... ma anche per tutto l'anno!
An easy , tasteful recipe good for Summer but also throughout the year!
Une recette simple, savoureux pour l'Eté mais aussi pour toute l'année.
Ingredienti :
( per 4 persone , 1 a testa, ma se sono buongustai, raddoppiate le dosi!)
4 pomodori belli tondi e maturi -1 spicchio d'aglio - 5 foglie di basilico- 50g ca. pangrattato -
1 cucchiaio di capperi sotto'aceto- sale e pepe- 3 acciughe - 2 cucchiaio di prezzemolo tritato- olio extra vergine di oliva q.b.-un poco di brodo
1. Lavare i pomodori, a 3/4 dell'altezza vale a dire circa 1 dito sotto la calotta. Questa'ultima si può utilizzare per la decorazione finale ma io francamente amo lasciarli ..al naturale.
2.Scavare la polpa di ciascun pomodoro ed estrarla . Salare ogni pomodoro svuotato e capovolgerlo su una piatto in modo che perda l'acqua (qualche minuto)
3. Lavate le acciughe sotto l'acqua e tritatele dopo aver tolto la più parte delle lische, tritate i capperi , tritate il prezzemolo e il basilico, schiacciate l'aglio .
4. In 1 ciotola mettete il pangrattato(o anche la mollica di pane ammorbidita in acqua e benstrizzata) , le acciughe e i capperi tritati, l'aglio schiacciato, il prezzemolo ed il basilico tritati e un poco d'olio. Ammorbidite l'impasto con qualche cucchiaio di brodo: attenzione: l'impasto deve essere sodo non liquido!
5. Rigirare i pomdori , riempirli in modo eguale metterli in una teglia unta e metterli inforno caldo a 180°C per circa 35 minuti . La pelle si raggrinzerà e sopra i pomodori si doreranno. Tirarli fuori , lasciare un poco raffreddarli e servire .
Ingredients: (Serving 4 people, 1 tomato each, but if you understand your guests are good eaters , just double the quantities!)
4 ripe round tomatoes -1 clove of garlic - basil leaves 5​-50g approx. breadcrumbs - 1 tablespoon capers, salt and pepper - 3 anchovies- 2 tbsp chopped parsley -Extra-virgin olive oil -a bit of broth
1. Wash the tomatoes, cut each of them 3/4 height under the top ( approx. 1 finger under the top). The top ccould be used for decorating but I honestly love filled tomatoes .. natural and simple way
2.Remove the pulp from each tomato. Salt the tomatoes well drained and put them upside down on a plate and let lose water ( a few minutes)
3. Wash the anchovies in the water and chop them after removing most of the bones, chopped capers, chopped parsley and basil, crushed garlic.
4. In 1 bowl, place the breadcrumbs ,the anchovies and the capers chopped, crushed garlic, parsley and basil also chopped , add a bit of oil. Soften the dough with a few tablespoons of broth. be careful: the dough must be firm not liquid!
5. Turn over the tomatoes, fill them evenly in a greased pan and bake them at 180 ° C heated oven for about 35 minutes. When the skin will get lightly crisp the top of tomatoes golden then take the tomatoes out of the oven, let them cool a bit and serve
Ingrédients: (Pour 4 personnes, 1 tomate à personne , mais si vous avez des amis qui goutent beaucoup votre cuisine, il faudra doubler les quantités)
4 tomates bien mûres et rondes -1 gousse d'ail - 5 feuilles de basilic -50g env. chapelure - 1 cuillère à soupe de câpres- sel et poivre - 3 anchois - 2 cuillères à soupe de persil haché -huile d'olive extra-vierge -un peu stock au goût -
1. Laver les tomates, couper-les à environ 2 cm sous la calotte Celle -ci pourrait etre utilisée pour la décoration finale, mais honnêtement, je préfère les tomates ... nature ...
2.Lever la pulpe de chaque tomate, . Saler les tomates égouttées et inverser sur une plaque de sorte qu'ils perdent de l'eau (quelques minutes)
3. Laver les anchois sous l'eau et les hacher après avoir enlevé la plus part des arêtes, des câpres hachées, le persil et le basilic hachés , l'ail écrasé.
4. Dans 1 bol, placer les miettes de pain ,les anchois et les câpres hachées, l'ail écrasé, le persil et le basilic haché et un peu d'huile. Ramollir la pâte avec quelques cuillères à soupe de bouillon: la pâte doit être ferme pas liquide!
5. Tourner les tomates et les remplir uniformément dans un moule graissé , faire cuire à 180 ° C de chaleur pendant environ 35 minutes. La peau se ratatinera au dessus et les des tomates seront un peu dorées. Il est temps de les sortir du four , laisser les refroidir légèrement et servir.