La tradizione di origine mediovale vuole che , a Parma , nella notte fra il 23 ed il 24 Giugno di ogni anno si festeggi il Solstizio d'Estate , raccogliendo la Rugiada del mattino . L'attesa per la Rugiada della Mezzanotte, a Parma si traduce nel raccogliersi attorno alla tavola con parenti e/o amici per festeggiare l'avvenimento in allegria perchè raccogliere la rugiada significa fortuna, salute e fertilità e festeggiare con parenti ed amici attorno alla tavola con una grandissima ... Tortellata . Infatti vengono serviti questa sera migliaia e migliaia di Tortelli di erbetta , primo piatto storico della città.
Per chi non è di Parma, è invitato a farli almeno una volta oppure venire qui e mangiarli .. ovunque!!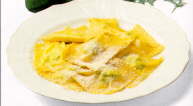 An old tradition of medioeval origins wants that in my town Parma , in the night between 23 and 24 June of every year, people celebrate the Summer Solstice , gathering the good-luck Dew . While waiting for the Midnight dew , people use to gather together around the table and dine with parents and/or friends to celebrate with happiness this context which means fortune, health and fertility.
They therefore dine mainly with the king course of the Parmesan cuisine : RAVIOLI with butter and Parmesan cheese. Tonight in Parma and surroundings , thousand and thousand of Tortelli /Ravioli will be served .
For those who never tasted them , you are invitated to make them (too easy) or just pop here in Parma and eat them ..they are available in all restos of the town and around!
Une ancienne tradition originare du Moyen-Age voit ma ville parme bien engagée la nuit entre le 23 et le 24 Juin de chaque année à recueillir la rosée de St Jean Martyr (le 24) mais surtout le Solstice d'Eté, qui signifie Bonheur, Santé et Fertilité . Les gens de Parma et de la banlieu , dans l'attente de recueillir la rosée de Minuit, se reunissent autour de la table pour dîner avec leur famille et/ou les amis et manger selon la tradition le plat- symbole de la cuisine de Parme : les Ravioli au beurre et fromage Parmesan(Tortelli)
Pour ceux qui n'ont jamais gouté les ravioli de Parma, ils peuvent facilement les faire ou bien venir nous visiter pendant l'année:partout on trouvera les Raviolis de Parme(Tortelli).
Ingredienti per 6 persone
40 minuti per la preparazione + 5 minuti per la cottura
Per il ripieno:
4 etti di ricotta romana (ricotta grassa)
3 etti di foglie di bietole
100 gr. di Parmigiano - reggiano grattugiato
1 uovo
sale
un pizzico di noce moscata
Per la sfoglia:
300g di farina
3 uova intereo
Per condire.
100g di burro fuso
50g di Parmigiano-reggiano grattugiato
Per prepararli:
- Lessare le foglie di bieta , strizzarle bene e tagliarle finissime
- Lavorate la ricotta con le bietole, l'uovo, 100 gr.di Parigaino-reggiano grattugiato, sale e 1 pizzico di noce moscata
grattugiata.
- Preparate la sfoglia impastando la farina con le uova(fontana).
-Tirate la sfoglia il più sottile possibile, a strisce larghe di circa 10cm.
- Mettere il ripieno a mucchietti, grossi come una noce(cucchiaino da thè), in fila sulla striscia di sfoglia a distanza di
4-5 cm l'uno dall'altro; ripiegare la striscia per il lungo in modo da ricoprire il ripieno; schiacciare bene con le dita
intorno al mucchietto di ripieno(anche con i rebbi della forchetta) . Formate dei tortelli rettangolari tagliandoli con
l'apposita rotellina (oppure tagliati con coltello).
- Cuocete i tortelli in acqua salata, scolateli bene e conditeli, a strati con burro fuso e Parmigiano -reggiano
grattugiato. Potete aggiungere anche qualche foglia di SALVIA

Ingredients for 6 people/Ingrediénts pour 6 personnes
(40 minutes preparation/préparation + 5 Min.cooking/couisson)
For the Filling /Pour la farce
400g Ricotta cheese/400g de (fromage)ricotta romain
300g Chard leaves (if missing,you can use spinach)/300g de feuilles de bette à carde (en cas d'absence, on peut utiliser els épinards)
100g Italian Parmesan cheese grated/100g fromage Parmesan italien râpé
1 egg, salt and 1 pinch of grated nutmeg/1 oeuf,sel et 1 pincée de noix muscade râpée
For the pastry /Pour la pâte
300g flour /300g farine
3 eggs/3 oeufs
For the sauce/Pour la sauce
100g of melted butter/100g de beurre fondu
80-100g of Italian Parmesan cheese grated/80-100g of fromage Parmesan Italien râpé
Preparing /Préparer
Boil the chard leaves, squeeze well and chope them finely/Faire bouillir les feuilles de bette,presser les bien et hacher finement
Mix the ricotta cheese and the chard well, add the egg(1) , 100g of Parmesan cheese, salt and the pinch of numeg grated /Mélanger bien les bettes avec la ricotta , ajouter l'oeuf, 100g de formage Parmesan râpé, le sel et la pincèe de noix muscade
Prepare the dough mixing the flour with the 3 eggs /Préparer la pâte en mélangeant la farine
avec les 3 oeufs
Roll out the dough as thin as possible, in about 10cm width strips/Etaler la pâte aussi mince que possible, en bandes larges environ 10 cm
Take little amount of filling (use a tea spoon),big as wallnut, line them up on the strip of dough at 4-5 cm distance each other , fold the strip lenghwise in order to cover the filling , crushed with your fingers around the mound of filling (you can use also a fork). Cut the rectangular ravioli with a special pastry wheel or just with a knife /Mettre la face en petits tas , gros comme une noix(aidez-vous avec une cuillère à thè), aligner les sur la bande de pâte à une distance de 4-5 cm chacun , plier la bande de la longeur afin de couvrir la farce , souder bien à l'aide de vos doigts (ou d'une fourchette) autour de la farce . Former les raviolis rectangulaires en les coupant à l'aide d'une molette dentellée ou bien un couteau aiguisé.
Cook the ravioli in salted water for 5 to 8 minutes , drain well and dress in layers in a large dish or a bowl with melted butter and grated Parmesan cheese(and 1-2 leaves of sage if you like)/Cuire les raviolis en les plongeant dans l'eau salée pendant 5-8 minutes, égoutter bien et mettre les raviolis dans une grande assiettes en couches chaque couche habilé de beurre fondu et de Parmesan râpé( et une feuille de siège si vous voulez) .