Come sapete sto facendo il mio SALPIN 2012 , vale a dire sto ricamando un quadretto, un pinkeep , ecc sul tema del Natale e per quello che verrà. ogni mese, un ricamo ed un oggetto. Alla fine la raccolta è sostanziosa e si possono fare tanti regali di Natale alle amiche!! Questo è quello di Gennaio 2012 (Febbraio è uscito il 14/2 con il cuore ed un uccellino Cardinal) che dovevo finire e che , per amore delle uova di Pasqua , ho tralasciato!. Lo schema viene da Little House Needlework ed era l'ultimo uscito da questa splendida "maison" .Finitura con pannolenci ROSSO .
As you know I am doing my SALPIN 2012 , namely I am embroidery every month a cushion or a pinkeep or a decoration for next Christmas . Every item handmade will be a Xmas present for a friend .
This is January 2012 (February was the heart with Cardinal posted Feb.14th) left a bit behind to give spece emeough to the Easter eggs to embroider! The chart comes from Little House needlework and seems to be the alst one released by the company last year.Finishing with RED felt .
Comme vous savez je fais le SALPIN 2012 et donc chaque mois je dois faire au moins une petite chose, décoration, ecc.. pour le Noel à venir et à donner aux amis . Eh bien , après Février avec le coeur avec l'oiseau Cardinal rouge , me voilà avec Janvier , oui Janvier .. dont la finition avait été laissé e d'un coté pour rendre justice aux ouefs de Paques! La grille est une de dernières publiées par Little House Needlework en 2011 et que je trouve particulièrement jolie .finition en feutrine ROUGE.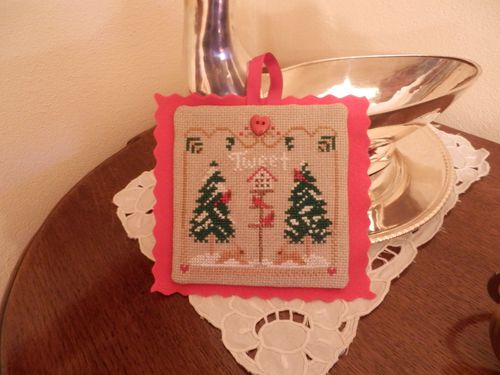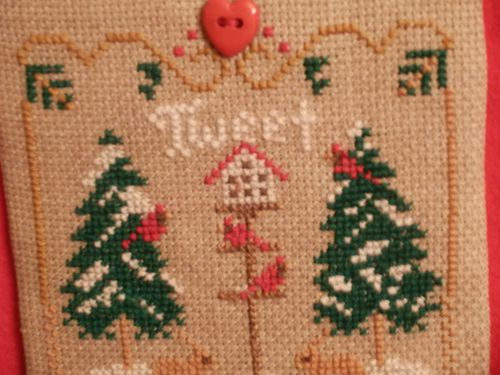 RETRO