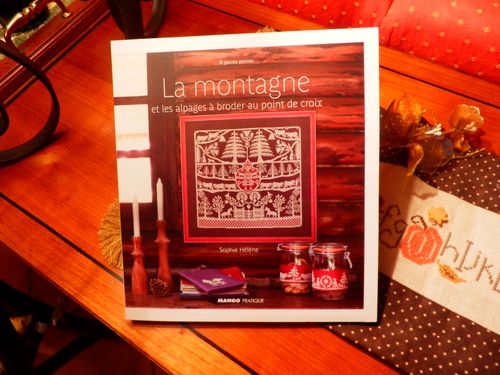 Da leggere, da sfogliare, da prenderne progetti , da analizzare , .. i libri sono sempre e comunque dei veri tesori e penso che siano anche piccoli investimenti sulla propria cultura , genialità, manualità .
Così ritengo che spendere nell'acquisto di libri sia sempre una buona cosa! ecco perchè , oltre a romanzi e saggi, mi piace anche arricchire la mia biblioteca di libri di lavori manuali, di ricamo come questo arrivato due giorni fa con disegni riguardanti la montagna , scene di vita d'alpeggio, principalmente ricamate a punto croce monocromo o , massimo, due colori . E' molto interessante, credetemi!
To read , to flip through ,to take some projects or simply analyse.. books are always true treasures and I believe also some sort of investments in your culture, knowledge, genius, creativity,.. So I believe that money spent for books are spent for a right cause . And for this reason I enriched by handcrafting bookcase of a new embroidery book with scenes from mountain life to stitch monochrome or with 2-colours thread max.Very nice book indeed !
A Lire, à feuilletter , à prendre de petits projets , à analyser ... les livres sont toujour de vrais trésors et je crois aussi de bon sinvetements sur votre culture, connaissance , génie, créativité .. Donc , à mon avis, l'argent depensé pour l'achat des livres est le mieux dépensé . J'ai enrichi ma bibliotèque des loisirs avec un nouveau texte de broderie sur la Montagne et la vie d'alpège , Super joli 1 A broder monochrome ou bien avec 2 couleurs au maximum... regardez quelques photos .