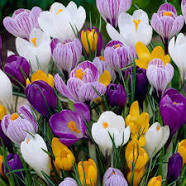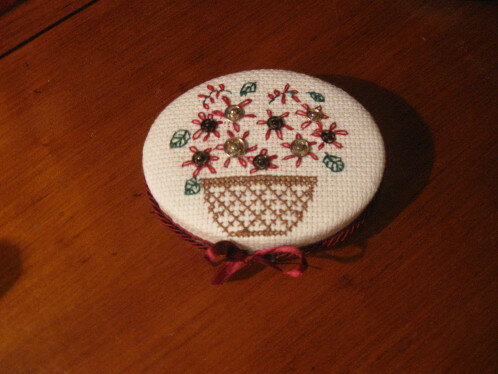 Una semplice scatola in cartoncino che girava per casa da tempo con tanti spilli senza fissa dimora è stata tramutata in una scatoletta degna di attenzione , sempre tuttavia mantenendo la sua natura semplice semplice
di "portaspilli" . Lo schema viena dal blog di Elisa e lo trovate come Corbeille Fleurie degli schemi di P.croce, pochi punti da ricamare , qualche filo da usare, dei bottoncini a pressione di varie misure , qualche nastro e fiocco e il gioco è fatto.
A little carton box which was full of pins , so simple and so meaningful , was turned into a quite nice decorated box to keep some of my thousand pins ! The chart comes from Elisa's blog ("Corbeille Fleurie" of Xstitch freebies) and I think this is a good way to give an identity to an anonymous little box! Some embroidery floss, a few stitches, some snap buttons, some ribbons and trims and it's done!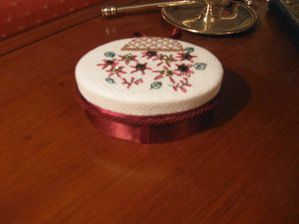 Une petite boite en carton , plutot anonyme , est devenue un petit "chateau" pour des épingles !! J'ai trouvé la grille chez Elisa sous les freebies "Corbeille Fleurie" et donc j'ai pris des butons à pression (agés!) , quelques fils de DMC , quelques rubans et voillà le jeu est fait!!