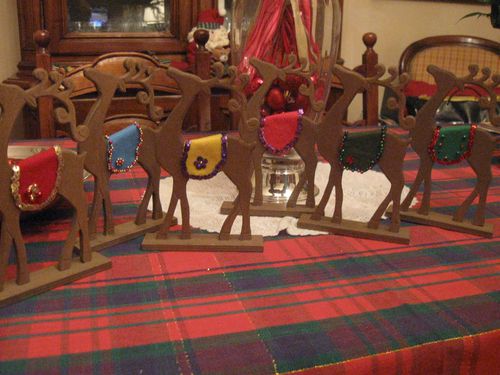 Un anticipo di auguri di Buon Natale (che vi farà sul blog il 25 dicembre ) ve lo danno 6 renne di Babbo Natale
che da circa 2 anni erano nella mia stalla-laboratorio creativo .
Qui sono 6 su otto , visto che Vixen e Prancer sono.... dal maniscalco... .Ho rifatto loro la sella con il pannolenci decorandola leggermente con perle e paillettes . Un modo come un altro per occupare gli ultimi spazi vuoti della sala!!!! ciao
Some Christmas wishes in advance (I will send you a Xmas wishing post on Dec.25) are brought to you by 6 Santa's reindeers . They have been segregated in my stable/creatif laboratory for at least two years and now they are covering one of the few free areas left in our living room! Here are only 6 while Vixer and Prancer are at the blacksmith .. I cut the fels saddles in different colours and decorated them a bit with beads and sequins .. they look nice!
Voilà des rennes de Santa que vous avancent les voeux de Noel que je vous ferai le 25 Decembre par blog . Elles sont restées cachées pendant 2 ans dans mon laboratoire créatif mais j'ai donc décidé de faire la selle en feutrine , couleur différante , et la décorer avec des perles et des paillettes .Et avec eux j'ai presque terminé les espaces libres dans notre salon!!!