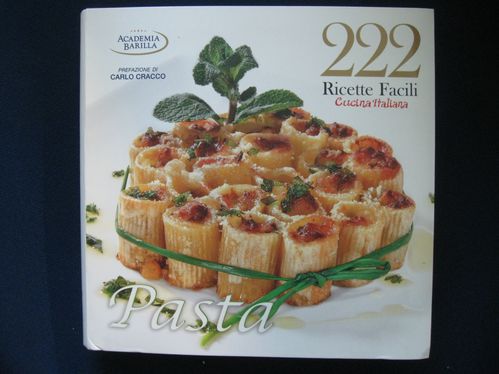 Ieri sera rispondendo ad un invito , sono andata ad un drink/brindisi di Natale. Chi invitava era un grande hotel di Parma e gli invitati erano per lo più persone che lavoravano (con prenotazioni, confressi, seminari) con lo stesso . Conoscevo bene tutto lo staff e mi ha fatto un grande piacere incontrare delle altre "colleghe" Assistenti di Direzione di altre grandi aziende ! Al momento del commiato , bé con non poca sorpresa ,l'organizzatrice dell'evento mi ha consegnato un regalo che non posso non mostrarvelo.
222 RICETTE FACILI- Cucina Italiana edito dall'Academia Barilla di Parma
Lo si può trovare in libreria o chiedere direttamante all'ACADEMIA BARILLA (Barilla Food Accademy) e ne vale la pena, credetemi per le ricette , le foto e la presentazione di un grande chaf come
Carlo Cracco.
****
Yesterday night I answered to an invitation from one of the best Hotel in Parma : Most of the people invited as me had been working with this Hotel for congress, seminar & room booking . Therefore I was happy to meet there other "colleagues" , Executive Assistants of other top companies. When I was leaving the PR lady of the hotel gave a present to thank me for the activity carried out with them And I was surpised to see this beautiful HUGE book edited by the well-known Academy BARILLA and introduced by one of the best Italian chefs, Carlo Cracco.
222 Easy recipes to cook PASTA with wonderful photos and very easy instructions to follow. Just great!
****
Hier soir j'ai repondu à une invitation pour un cocktail che un de plus important hotel de Parme. C'était la façon de remercier les representants de pleusieurs grandes sociétés de la ville pour le travail déroulé pendant l'année . Et donc j'ai eu la chance de rencontrer beaucoup de "collègues" Assistant de Direction que j'e connaissais et boire un verre avec eux. Avant de laisser la compagnie, la dame en charge de l'organization m'a fait gentil cadeau de ce grand livre de 222 Recettes faciles avec la PATE , avec de belles recettes, de belles photos , prèsentées par un de meilleurs chefs italiens, Carlo Cracco et dont l'édition est curée par l'ACADEMIA BARILLA de Parme .. je pense que j'ai de la chance à avoir BARILLA à plus ou moins 3 km de chez moi!!!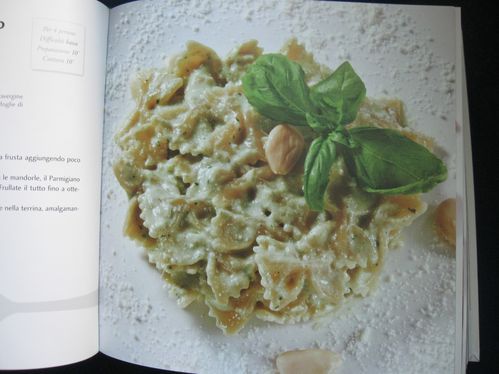 FARFALLE CON RICOTTA E BASILICO- BUTTERFLIES WITH RICOTTA CHEESE AND BASIL- PAPILLONS AVEC RICOTTA ET BASIL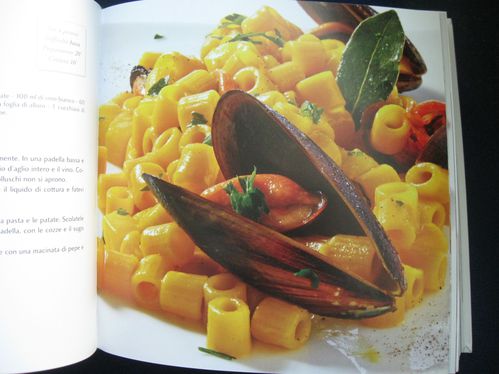 Ditaloni con cozze,patate e zafferano- Thimbles with mussels,potatoes and Saffron-
Dés avec moules, pommes de terre et saffron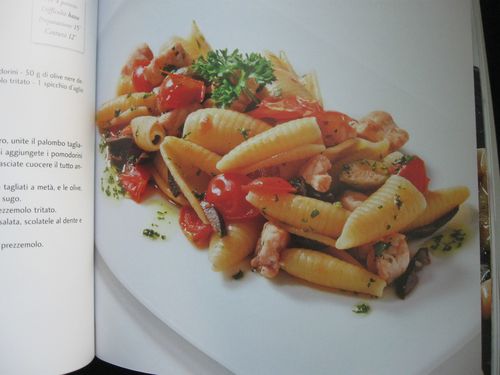 Castellane con palombo,olive e capperi-castellane (ridged shells) with dog-fish ,olives and capers- castellane avec de la roussette, olives et gribiches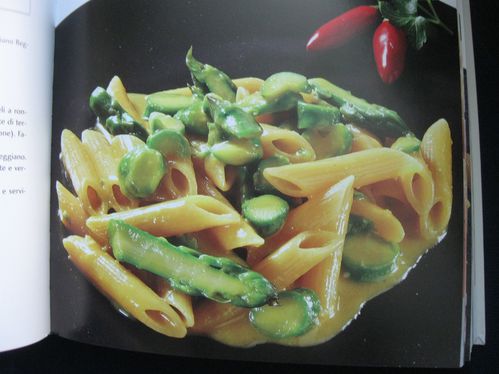 Penne con asparagi -pens with asparagus- Penne avec les asparges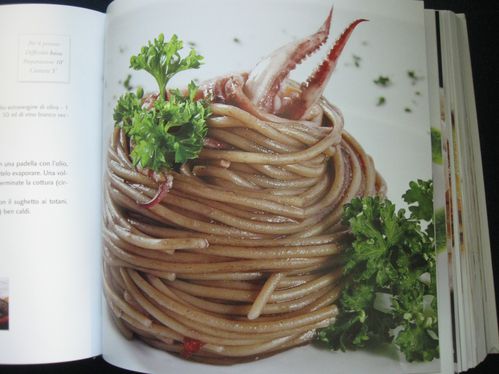 Spaghettini con totanetti- Spaghettini(small little twines) with little squids- Spaghettini avec petits calamars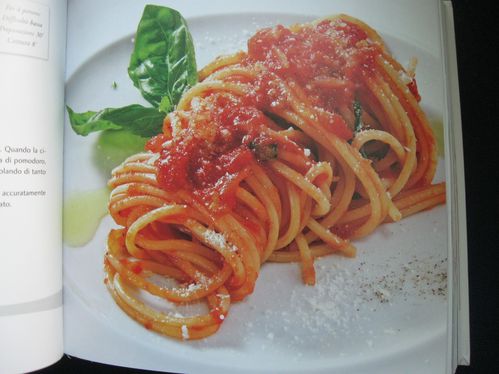 Classici Spaghetti n°5 al pomodoro- Classi Spaghetti (size n°%) with fresh tomato sauce- Les Spaghetti classiques (n°5) avec la sauce fraiche de tomate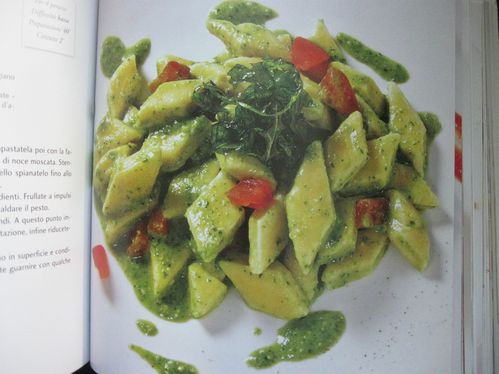 Gnocchi di patate al pesto di rucola - Potato Gnocchi(dumplings) with pesto of rucola- Gnocchi de pomme de terre avec pesto de rucola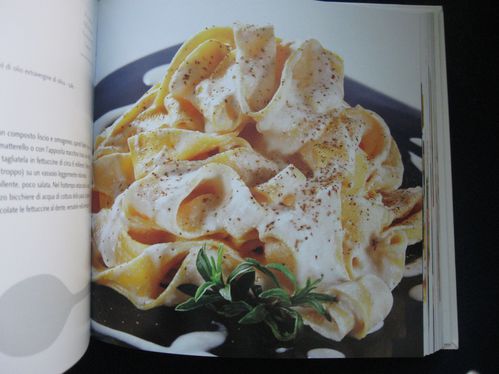 FETTUCINE CON LA RICOTTA- FETTUCCINE WITH RICOTTA CHEESE- FETTUCCINE AVEC LA RICOTTA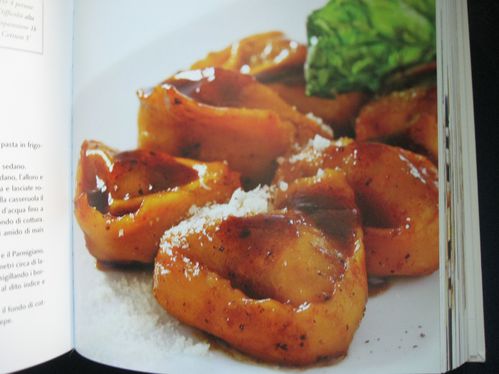 TORTELLI D'ANATRA - RAVIOLI WITH DUCK FILLING- RAVIOLI AU CANARD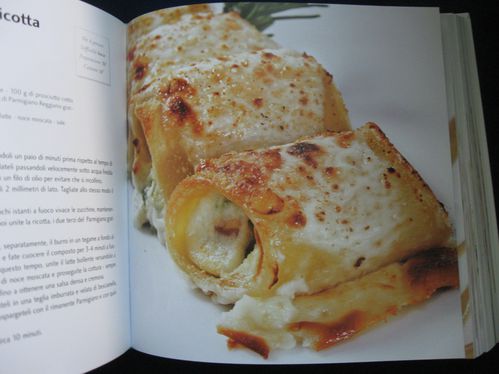 Schiaffoni ripieni di ricotta,zucchine e prosciutto- Lasagne with ricotta cheese, babymarrows, ham filling-Lasagne avec rembourrage de ricotta, courgettes et jambon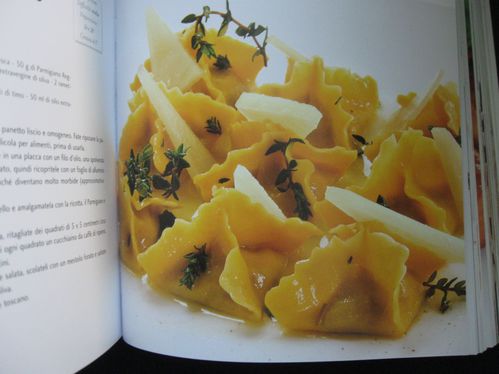 FAGOTTINI DI MELANZANE AL TIMO E PECORINO TOSCANO- Little pasta bundles with aubergine and thym filling and Toscan Pecorino cheese - Petits ravioli with rembourrage d'aubergines et tym et Pecorino Tuscan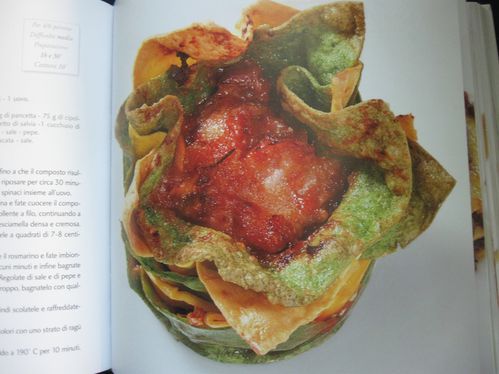 Lasagne alla cacciatora- Lasagne "in the Hunter's style" - lasagne de la façon du chassuer
In copertina : MEZZE MANICHE AL FORMAGGIO E FUNGHI
Cover : Mezze maniche (half leave noodles) with cheese and mushrooms
Mezze maniche avec fromage et champignons