Ancora una piccola realizzazione in feltro , semplice e , credo utilizzabile anche in altre occasioni (non solo per Natale) come pasqua, primavera, ecc .. solo un pò di pannolenci-feltro (leggero) , qualche perlina in tinta, un pezzetto di nastro , ago e filo in tinta . Da appendere .. anche se qui la papera se l'è caricata sul groppone!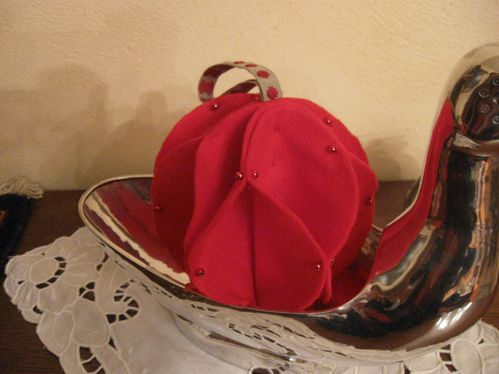 Another little decoration for Xmas in felt . I think we can use the pattern also in aother contexts , like Easter, Spring and so on just changing colour & the finishing items . Here some red felt, red beads , a piece of red and ecru trim,needle and thread . To hang of course even though the duck here charged it on its back!
Une autre dècoration en feutrine , très simple et rapide . Je crois que le gabarit peut etre utilisé aussi pour d'autres évènements , comme Le Paques ou le Printemps, l'Anniversaire,.. en changeant la couleur de al feutrine et les petites décorations. Ici feutrine rouge, perles rouge, ruban ecru avec des sphère rouges , aiguille et fil .
A pendre et pas à charger sur son dos comme le canard a fait ici!!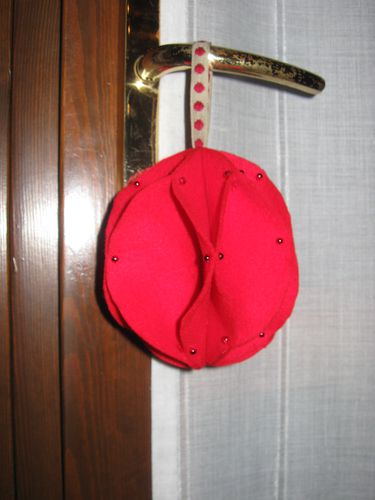 1 .Tagliare 6 dischi di pannolenci di non meno di 12 cm diametro ed impilarli uno sopra all'altro(Foto 1)
Cut 6 felt circles and line up all them perfectly one top of the other one
Couper 6 circles de feutrine et les placer l'un sur l'autre parfaitement
1.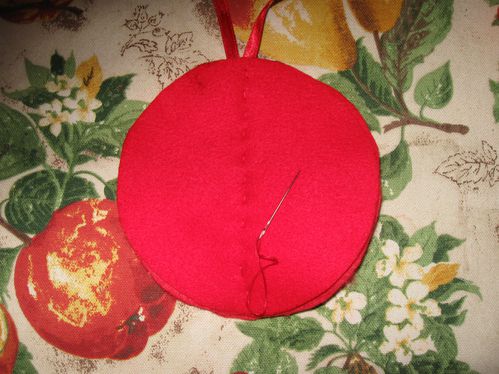 2. Inserire 2-3 cm di nastro colorato fra il 3° e 4° cerchio (metà)che ni servirà per appendere l'ornamento
e poi tenendo i 6 cerchi ben fermi fissate con una serie di punti filza i 6 dischi in contemporanea (Foto 2)
- Fold the piece of ribbon halp and leave 1 inch of it between the 3rd and 4th circle .Keeping all circles well firm , fix them with a few stitches (which will also fix the ribbon) .
-Plier le ruban à moitié et insérer 2cm (parties finales) entre le 3eme et le 4eme circle en feutrine .garder les cicles bien fixé et coudre-les avec un point pour tout le diamètre des circles (de cette façon vous fixerex le ruban aussi)
2.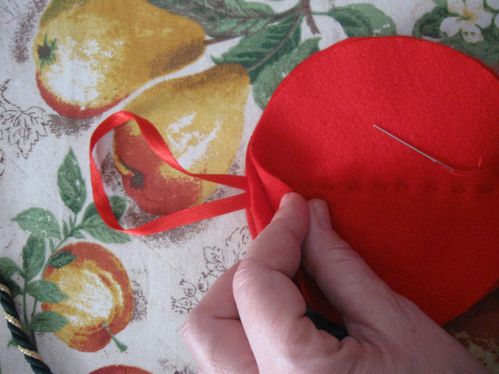 3.
- Piegare il primo cerchio a metà e fissare con ago e filo in tinta i 2 lati come in Foto 3
-Fold the first circle half and fix the center with a few stitches as in photo 3
-Plier le 1er circle à moitié et fixer le centre avec quelques points comme en photo 3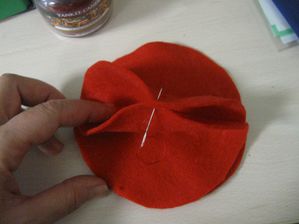 -Prendere il secondo cerchio (solo 1 metà ) e fissarlo in alto e basso di una metà del 1° cerchio
4.