Periodo di raccolta delle zucche e non solo per festeggiare Halloween ma anche per preparare gustosi antipasti, primi piatti ( con il riso, la pasta ,..) , secondi , dolci e piccoli piatti esotici un pò tipici dell'Autunno.Così un piccolo schema per ricordarvi questo splendido prodotto della Natura , così buono , così semplice e così a buon mercato!
This is the time of gathering pumpkins, not only for Halloween but mainly to prepare tasteful hors-d'oeuvre, first and second courses, cakes and exotic dishes which are also the symbol of this new coming season, Fall .
So, a little Xstitch pattern to remind you of this wonderful product of the Nature, so tasteful, so simple and so cheap!
C'est le temps de recueillir les citrouilles et pas seulement pour Halloween mais pour preparer de bonnes choses à manger , à commencer des hors d'oeuvres, à suivre les premiers plats (pastas) , deuxieme plats , les gâteaux et les plats exotiques un peu typique de cette belle saison qui arrive , l'Automn.
Et donc, voilà une petite grille pour vous souvenir de ce bon produit de la Nature , si bon, si simple et si à bon marché!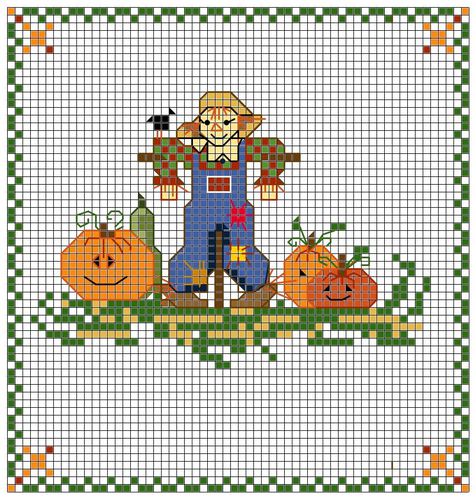 PDF FILE

ZUCCHE,PUMPKINS, CITROUILLES & Co.