Chi non ha mai provato a contare le pecore per addormentarsi ?
Le pecore del Suffolk (come quelle in foto) o autraliane o scozzesi o italiane
sono sempre , sia nella realtà che nel sogno, simbolo di tranquillità e di pace .
Quindi... contate sulle pecore per avere di giorno e di notte (soprattutto) entrambe le cose!
It's hard to find someone who never tried to get asleep at least once in his life without counting
the sheeps ! . These lovely animals from Suffolk(in photo) or from Australi or from Scotland or Italy are always, in real life and in the dreams, symbol of tranquillity and peace .
Therefore.. it's just a question of counting on ... them day and night above all to get both things!
Il est difficile de trouver quelqu'un qui n'a jamais compter les moutons pour s'endormir!
Les moutons soit du Soffolk(en photo), soit de l'Australie , de l'Ecosse ou bien de l'Italie sont toujours, soit dans la réalitè que dans le rêve , le symbole de tranquillité et de paix .
Donc... comptez sur les moutons pour avoir de jour et surtout à la nuit pour ces deux choses!!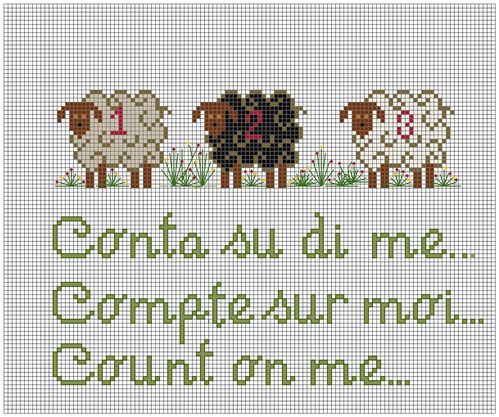 PDF FILE :

CONTA SU DI ME..