I giorni, i mesi passano e siamo già a Maggio! Un mese bellissimo e preludio all'estate
Ci sono alcune feste nel periodo, come quella del Lavoro , ma credo che sia giusto ricordare una della feste più "dolci" e più importanti (dal punto di vista sentimentale) quella dedicata alla MAMMA.
E così , pur non potendo dedicarla alla mia che ci ha lasciati anni fa , dedico questo schema a tutte le amiche mamme ed alle loro mamme !
Les jours , les mois passent vite! et voilà qu'on est arrivé au mois de Mai , mois superbe et qui nous mène vers l'Eté . Il ya quelques fêtes en Mai à célebrer comme celle dédiée au Travail , mais je crois qu'il vaut bien se souvenir de l'une de fetes plus "douces" et plus importantes - au niveau sentimental- , celle des Mères .
En Italie on la célèbre le 2eme Dimanche de Mai , je crois en France 1 mois aprés . Donc, en n'étant pas dans la possibilité de dèdier cette grille à ma Maman qui nous a laissé (pour le Monde des mères) il ya pleusieures années , je la dédie à toutes mes amies mères et à leur mères!
Days and months run away very quickly and we are already in May , gorgeous month which brings us to Summer . In this month we celebrate some important feast as the Labour Day (May 1st) , while a week after (2nd Sunday ) we celebrate the Mother's Day ! . It's a wonderful feast for wonderful persons . Since I won't be able to dedicate to my Mom who passed away years ago, I'll dedicate this pattern to all my friends who are mothers and to their moms!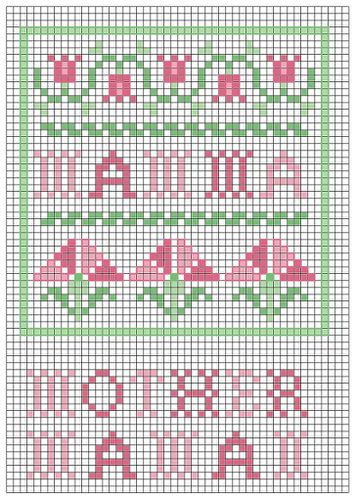 PDF

Festa della Mamma