Ho pensato che è sempre molto carino avere qualcosa di colorato e vivace al centro della tavola nel giorno di Pasqua . Così dalla semplice idea sono passata ai fatti: una cosa molto semplice, spartana , molto ... country .
J'ai pensé qu'il est joli avoir une décoration au centre de la table pour Paques et donc je me suis organizée pour faire quelque chose de simple, rustique plutôt country.
I think it could be nice to have the table decorated for Easter and therefore I decided to arrange something simple, primitive using vegetables.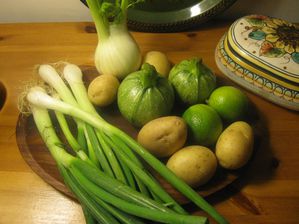 Ingredienti : patate , finocchio , scalogno, lime (o zucchiene tonde) , porri (cipollotti)
muschio o foglie verdi fresche , fiori in tessuto , bacche (finte o vere) . Le verdure devono essere di piccola taglia
Ingredients Pommes de terre, échalotes , feneuil, Lime ( ou bien courgette ronde) , poireaux, mousse verte
ou bien des feuilles vertes , fleur en tissu , baies (vraie ou bien en plastique). Les végétables devraient etre de taille petite.
Ingredients: potatoes, shallot, fennel, lime fruits (or round courgettes-squashes), leeks , green musk or green leaves, fabric flowers, dried or plastic berries . All vegetables should be in small size.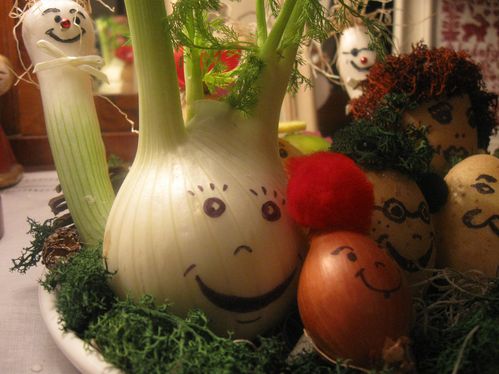 Fincocchio, scalogno, patate e porro ridenti- Smiling fennel, leek, shallot and potato
Feneuil, échalot, poireau et pomme de terre souriant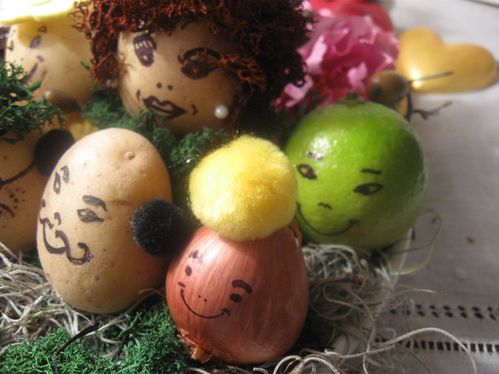 Il Conte Patato, lo scalogno fricchettone ed il limo orientale vanno d'accordo
Le Comte Pomme de terre, l'éschalot moderne et le lime oriental vont d'accord
The Earl Potato , the brilliant shallot and the asian lime get along very well together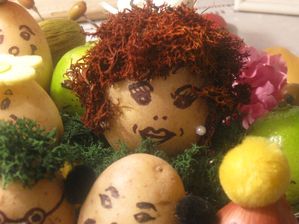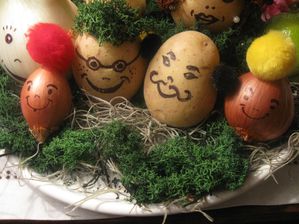 La Signora Patata è felice! Mme Pomme de terre est contente! Mrs Potato is happy!
RITRATTO DI FAMIGLIA - FAMILY PORTRAIT - PORTRAIT DE FAMILLE